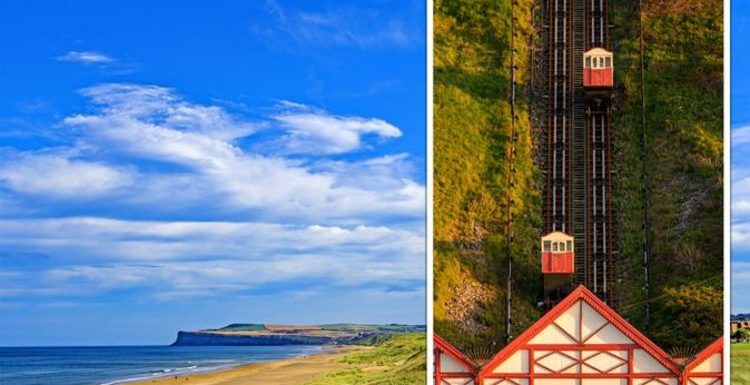 Saltburn Beach: Air ambulance responds to incident near pier
We use your sign-up to provide content in ways you've consented to and to improve our understanding of you. This may include adverts from us and 3rd parties based on our understanding. You can unsubscribe at any time. More info
There's plenty to do in North Yorkshire, with popular attractions like the North York Moors National Park and the Heritage Coast. To explore everything the area has to offer, one town has been singled out as one of the best for Britons looking for a seaside resort in the middle of it all.
Saltburn-by-the-sea, or Saltburn for short, is a Victorian Spa Town with a remarkable number of highlights.
The seaside resort's sandy beach is over a mile and has Blue Flag status.
On Tripadvisor, user Zitatravel said: "Dramatic views with an excellent surfing spot and an amazing long beach walk. This is my favourite spot along the coast.
"Due to its size you can find a quiet spot along the beach to park yourself. It sorts of never ends as you can walk for well over an hour from one end near the shops and parking to other end.
Spain holidays threatened as country debates closing hotels
"This is a really nice holiday spot less crowded then others along the coast."
Holidaymakers who decide to jump into the surf and try their hands at some watersports activities can head to Saltburn Surf School.
The only Surfing Great Britain-approved school on the East Coast, the surf school has taught Britons how to surf since the 80s.
Saltburn is well known for its Cliff Lift.
The oldest water-balanced cliff lift in Britain takes visitors from the town to the beach and is an attraction in its own right.
Freddiedoncaster wrote: "The Saltburn cliff tramway has to be one of the finest sights in Saltburn. Steeped in history, unfortunately at this moment in time the trams are redundant due to the pandemic.
"Even so, it's still worth visiting and having a read up on the journey through time that these wonderful trams have taken!"
Saltburn is also home to a 600ft long Victorian Pier, the last in the north east coast.
NickyMcVitty said: "Loved being able to walk out onto the North Sea! Amazing how it has survived the waves after so many years. Cute little pier!"
There is plenty to do and see in Saltburn, with a miniature railway dating back to 1947.
The railway is open from Good Friday until the end of September and is operating in the afternoons.
Suzanne said: "Great little train, run by very friendly and welcoming volunteers. One of the highlights of my Yorkshire holiday."
The railway is part of the Valley Gardens, where nature-loving holidaymakers can walk through the formal displays and visit the woodland centre or the tea rooms.
Keen walkers can follow the Cleveland Way, which goes from Saltburn to Filey.
The walk is not for the faint hearted, with Paul F walking 55 miles over four days.
However, he said: "Amazing views all along the coastline. Would definitely recommend this to anyone wanting a walking experience, but with the backup of nearby public transport (if needed)."
Source: Read Full Article