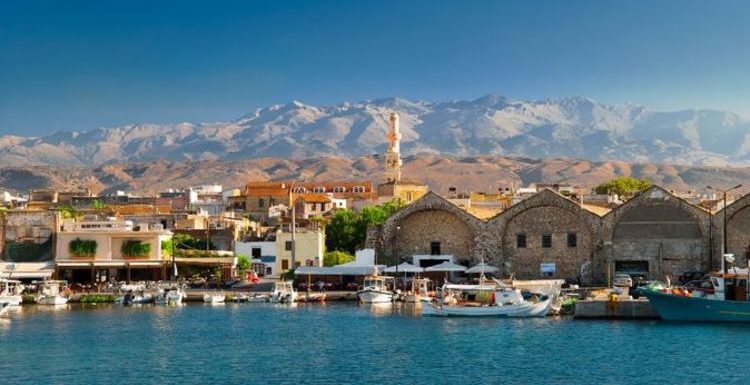 Travellers in tears over earthquake in Crete
We use your sign-up to provide content in ways you've consented to and to improve our understanding of you. This may include adverts from us and 3rd parties based on our understanding. You can unsubscribe at any time. More info
The earthquake hit the popular tourist hotspot around 9.30am and there warnings were issued of a tsunami. The underwater quake prompted a "small tsunami" in the south of the Greek island.
The earthquake struck the east coast of the island, 10km under the village of Palekastro, according to the US Geological survey.
The village is near popular British tourist destinations, including Agios Nikolaos, a beautiful coastal town in Crete.
There have been no reports of serious injury or deaths in the aftermath of the powerful earthquake.
The latest quake comes soon after another powerful earthquake on September 27 that killed one man when the roof of a church caved in.
Local authorities said emergency crews were checking for damage to buildings in Eastern Crete after the latest quake.
Crete's deputy regional manager, Yiannis Leondarakis, said: "The quake was felt all over the island, and it did cause concern because we are still feeling the aftershocks from the previous quake."
The earthquake in September caused serious damage to many buildings and left many people from Heraklion homeless.
Tuesday's quake was felt as far away as Cyprus and rockslides were widespread across Crete.
An hour after the quake hit a Greek seismologist released data showing a tsunami happening offshore.
He said: "A small tsunami is under way in southern Crete. Keep away from coastal areas."
Aftershocks of 4.1 and 4.5 magnitude followed the earthquake and videos from the incident showed people rushing from their homes as tremors shook the earth.
Local people described the sea receding before the powerful quake struck and said it impacted the island for at least 20 seconds.
Alexandra Papathanasaki, a local community head, said: "The sea was sucked in, the rocks appeared and then the quake happened."
Antiquities in a local museum at Sitia were reportedly damaged but no other serious damage has been reported.
Experts said they did not think Tuesday's earthquake was related to the powerful earthquake in September.
Mr Leondarakis said: "Fortunately, there doesn't appear to be any serious damage despite the fact that it was a strong event and occurred at a shallow depth."
Many people on the island of Crete remain homeless after the devastating earthquake on September 27.
About 2,500 people were left homeless and housed in emergency tents after the quake damaged their homes.
Earthquakes are fairly common in Crete as the island sits on fault lines. It is a popular destination with British tourists.
Any British tourists in Crete are advised to follow advice from local authorities and check the UK Government website for updates.
Source: Read Full Article