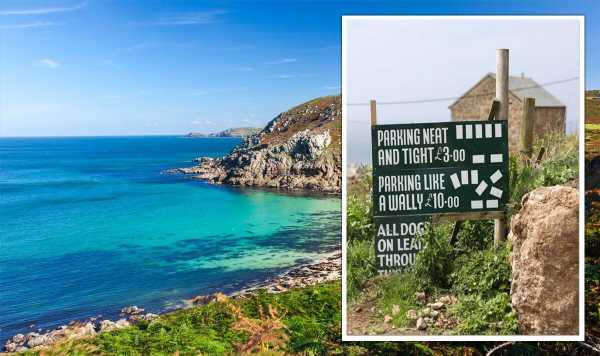 Martin Lewis issues advice on travel and refunds
We use your sign-up to provide content in ways you've consented to and to improve our understanding of you. This may include adverts from us and 3rd parties based on our understanding. You can unsubscribe at any time. More info
Ian Flindall, of Chypraze Farm, put up a new sign to deter bad parking. A small section of his farmland is used as parking for popular Portheras Cove.
Mr Flindall has seen some terrible parking from tourists and locals during the time the car park has been used.
The car park has no ticket machine or inspector and operates using an honesty system where people are asked to pay before they leave.
Ian said that dodgy parking meant that fewer visitors could use the car park as well as the footpath and nearby beach.
He decided to add a new sign to the carpark. Visitors are charged £3 to park but £10 for "parking like a wally".
Mr Flindall told Cornwall Live: "I don't want to charge too much, or rip people off. But if they take up four spaces, then surely they should pay for four spaces.
"If people park sensibly we can get a fair few cars in, but if they don't it's mayhem.
"As much as one would like to leave the public to their own devices, I'm afraid some will spoil it.
"We're quite remote fortunately, but there's some uncontrolled parking nearby which we want to avoid."
The farmer has found a few guilty £10 in his honesty box from drivers who presumably parked "like a wally".
He said: "For some strange reason I get them tucked in quite often. I figure they think, 'well I've just abandoned the car, here's a tenner'."
A photo of his warning sign was shared on the public internet forum site, Reddit and received over a thousand upvotes.
One commenter said: "I love this idea. You'd think people who spend most of their lives packed into inner cities like sardines would be adept at handling a car, but it seems the moment you present them with a nice rural car park without painted lines they have some sort of stress-related aneurysm."
Beach parking has been a controversial issue in Cornwall for years with many taking issue with uncontrolled parking.
Mr Flindall said he wants to avoid chaotic scenes that have been seen in other areas of the county.
He believes the sign has helped to control the parking on his land to avoid parking drama at the beach.
Cornwall was extremely busy during the pandemic as Britons chose to holiday at home instead of overseas.
Residents have complained about overtourism and said the demand had led to soaring high prices.
Some residents have said they have been priced out of the areas where they grew up due to the demand.
However, Malcolm Bell from Visit Cornwall told Express.co.uk he thought Cornwall would not see the same crowds this year now that travel restrictions have been lifted.
Source: Read Full Article