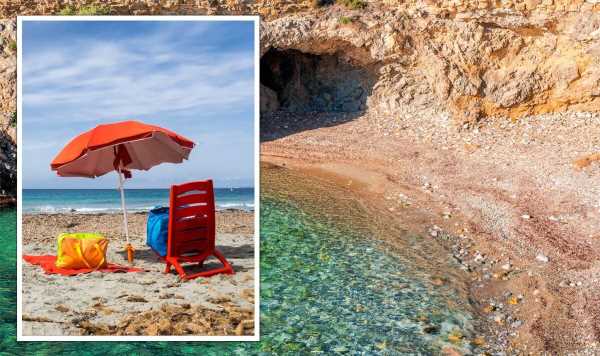 Martin Lewis issues advice on travel and refunds
We use your sign-up to provide content in ways you've consented to and to improve our understanding of you. This may include adverts from us and 3rd parties based on our understanding. You can unsubscribe at any time. More info
Tabarca island in Alicante is a popular Spanish tourist destination. The small island is located off the Alicante coastline.
The stunning spot is only reachable by boat and welcomes around 250,000 tourists every summer.
Many tourists travel from Santa Pola port in Alicante to visit the special National Marine Reserve.
However, the island is now planning to introduce a fee and booking system to control numbers.
Local residents have long called for controls on the number of tourists visiting the island by private means.
The Valencian Government is hoping that the proposed regulations will help to protect the marine reverse.
The island is also home to Posidonia Oceanica meadows, sometimes known as the 'lungs of the sea' due to their positive impact on decreasing carbon dioxide.
Measures are expected to come into force next season and will require boat owners to book in advance to dock.
They will also be charged based on the size of the boat. A similar fee system in Majorca charges between 18-45 euros per boat.
Pascual Orts, president of Santa Pola yacht club, said: "Regulation is necessary so that there is a control especially in high seasons.
"The simple movement of the waves has led to collisions between boats because the minimum distances were not respected."
Tourists have commented on the area on Tripadvisor.
One tourist who visited Tabarca wrote: "The water in the bay is crystal clear with nice gentle waves."
However another who visited in peak season said: "Hundreds of daily visitors tramping up and down the island leaving their rubbish everywhere including face masks.
"Most of this rubbish blows into the sea as the rubbish noted during my snorkelling sessions was shocking, including beach umbrellas and lots of plastic items.
"There is no excuse for it as there are many rubbish bins on the island but they are not enclosed."
The proposed fee to visit the island isn't the only tourist control the Valencian regional Government has planned.
It is finalising a plan to bring in a tourist tax to charge visitors who travel to the region for a holiday.
However, Benidorm has said it will never apply the tourist tax and some officials accused the Valencian Government of hating tourism.
The tax would be optional and different areas would be able to decide whether to introduce it.
Similar taxes are already in place in Barcelona and on Spain's Balearic islands where prices vary depending on accommodation.
Charges are often included in the price of a package holiday or accommodation fees in those areas.
Source: Read Full Article