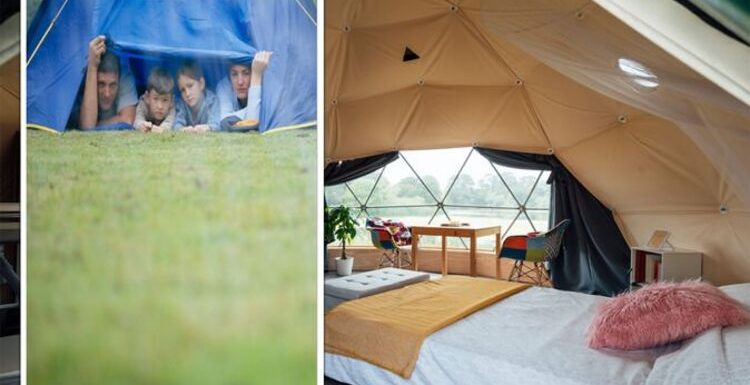 Somerset: Church offers camping services to help funding
We use your sign-up to provide content in ways you've consented to and to improve our understanding of you. This may include adverts from us and 3rd parties based on our understanding. You can unsubscribe at any time. More info
John Amsden, chair of Richmondshire district council's planning committee, said sites had popped up all over the Dales. He said there was little that could be done.
Amsden said: "Camping sites have changed from being camping sites, they are more like holiday parks.
"Plus we're getting a lot more sites with pods and lodges."
He said that the pandemic had led to a surge in demand for glamping holidays as people chose to holiday in the UK.
He said there had been a large increase in applications for lodges and glamping sites in the Dales.
This could be pushing out people who don't want to 'glamp' or cannot afford the expensive price tag.
Amsden said: "There used to be quite a few tent sites in the Dales but they've disappeared because of things like this.
"It is important for the younger generation. My daughter goes camping because it's easy and it's not expensive."
Amsden said that planners' hands were tied when it came to the sites and they were often powerless to refuse permission.
He added: "I'm concerned we'll get all these places up and running but in three or four years time, as things change back to normal and people start going abroad again, they will have priced themselves out of the market.
"I can see them in five years' time becoming derelict."
Richard Good, a committee member said: "The lack of actual tent camping in the area is becoming a serious problem.
"There is a definite need for camping in tents, it is much more economic.
"The reason why they don't want tents is because they don't get anything like the income from tents."
Glamping has grown in popularity in recent years and is seen as far more luxury than regular camping.
Guests often stay in cabins or erected tents which sometimes include kitchen facilities and bathrooms.
The extra facilities usually come with a heavy price tag and British tourists can expect to pay far more than for a camping holiday.
Although travel restrictions have lifted now, many Britons are expected to go on camping holidays in the UK this year.
Popular destinations include the Lake District, Peak District, Yorkshire Dales and Dorset.
Britons should always check the rules on camping before pitching a tent if they aren't using a campsite.
Wild camping isn't allowed in certain areas as it can seriously damage the natural environment.
Source: Read Full Article