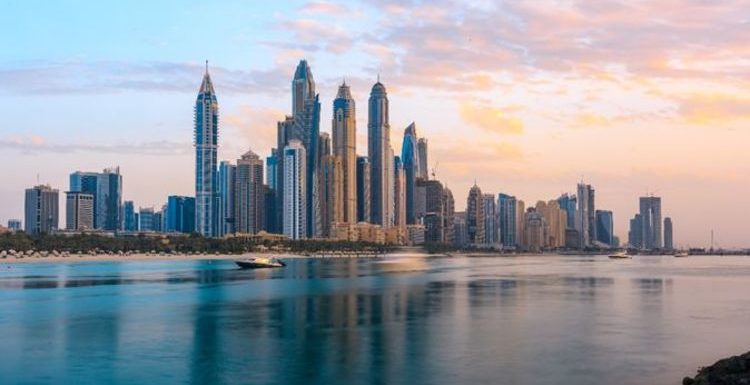 Holly Willoughby grills influencer who travelled to Dubai
Home Secretary Priti Patel launched a scathing attack on Instagram personalities and influencers flouting the rules for holidays. Scores of reality TV stars and other celebrities have "used loopholes" to flee to Dubai, lounging in luxury hotels and posing for pictures. Many influences have claimed they flew more than 3,000 miles to Dubai for "unavoidable work trips", with some even going as far as to suggest their social media posts deem them "essential workers".
But today, all that changes as Prime Minister Boris Johnson warned MPs in the House of Commons regulations would become tighter to stop people breaking the guidance.
Mr Johnson said: "I want to make clear that under the stay at home regulations, it is illegal to leave home to travel abroad for leisure purposes.
"We will enforce this at ports and airports by asking people why they are leaving and instructing them to return home if they do not have a valid reason to travel."
Expats living in Dubai have told reporters they are furious about the number of celebrity influencers coming into the city "for work".
We will use your email address only for sending you newsletters. Please see our Privacy Notice for details of your data protection rights.
Is Dubai on the quarantine list?
Dubai has been added to the quarantine list, along with the whole of the United Arab Emirates (UAE).
The Foreign, Commonwealth and Development Office (FCDO) advises against all but essential travel to this part of the world.
The guidance reads: "If you are returning to England, Northern Ireland, Scotland and Wales from the UAE on or after 4am on January 12, you will need to self isolate on your return.
Anyone trying to go to Dubai with a standard travel insurance policy will find it's invalidated by the time you get there.
In addition, travel restrictions in the UK don't allow for holidays at home or abroad, so you really shouldn't travel. As it stands, however, Dubai's borders remain open.
Anyone coming back to Scotland from Dubai will also need to quarantine under the new rules. Scotland has been introduced a new system called retrospective quarantine.
This means any Scottish residents who have been in Dubai since January 3 are also being asked to self-isolate for 10 days from the date they arrived back in the country.
To ensure people actually self isolate when they're told to, the Government has brought in mandatory quarantine whereby people will be transported to a hotel or other accommodation for a period of time.
Police have also been asked to ramp up checks, with officers likely to check home addresses in an effort to make sure people are compliant.
DON'T MISS
Gogglebox's Tom blasts 'disgusting' Dubai influencers amid lockdown [REPORT]
Dubai holidays: Latest FCDO update amid new quarantine & travel rules [EXPLAINED]
Dubai holidays: UAE axed from travel corridor list [INSIGHT]
Ms Patel told the Commons on Wednesday: "Firstly, the police have stepped up checks and are carrying out more physical checks at addresses to ensure that people are complying with the self isolation rules.
"Second, we will continue to refuse entry to non-UK residents from red-list countries which are already subject to the UK travel ban.
"Third, as the Prime Minister has said, we will introduce a new managed isolation process in hotels for those who cannot be refused entry, including those arriving home from countries where we have already imposed international travel bans.
"They will be asked to isolate for 10 days without exception and the Department of Health and Social Care will set out further details on this approach next week."
The Government has made it clear the rules are there for a reason – to be followed. Ms Patel went on to give examples of people who "should simply not be travelling".
She said: "At St Pancras people have been turning up with their skis, that is clearly not acceptable.
"We see plenty of influencers on social media showing off about which parts of the world that they are in, mainly in sunny parts of the world.
"Going on holiday is not an exemption and it's important that people stay at home."
Source: Read Full Article