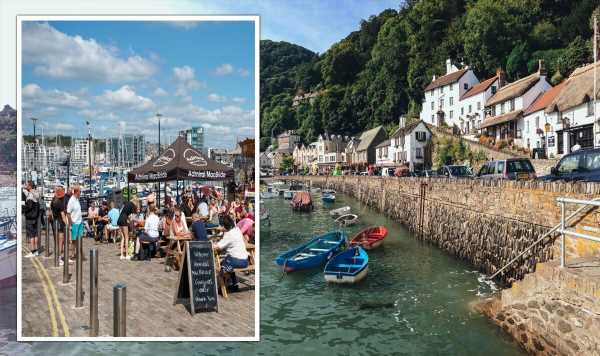 Staycations: Expert says you can save '£500' by going up north
We use your sign-up to provide content in ways you've consented to and to improve our understanding of you. This may include adverts from us and 3rd parties based on our understanding. You can unsubscribe at any time. More info
Although less popular as a destination than Cornwall, many Brits are opting for Devon for a staycation. One former Londoner has said the coastline is "being eaten up".
Suzy Bennett wrote in The Telegraph that she moved to Devon 14 years ago to enjoy its "raw, wild countryside".
However, she said: "No longer is it a place you pass through on the way to Cornwall, but a destination in its own right."
Bennett added: "Single-track roads are clogged with cars and tourist coaches. The countryside and coastline is being eaten up by huge caravan parks.
"And there's a chronic housing shortage, partly because homeowners are renting their properties to the lucrative holiday let market, rather than local people."
She added that competition was fierce when new houses were put on the market with one cottage getting 70 viewings.
Overtourism is a contentious issue in many areas of the UK as the popularity of staycation booms.
Many Britons who choose to holiday in the UK during the pandemic are now more likely to continue to holiday at home.
While Cornwall is still busier than Devon, the neighbouring county is attracting a lot of attention.
Housing is an issue in many honeypot staycation destinations in the UK with local residents often forced to leave.
Homeowners can often earn much more money renting their property to tourists than local people.
In Cornwall, Visit Cornwall has plans to ask holiday home owners to register their property with the county.
They would then have to meet certain guidelines on health and safety to keep the property registered.
While this would ensure tourist safety, it might also stop unscrupulous owners from registering properties.
Councillor Karen Kennedy in Devon recently said: "We have to say this loud and clear, we are in a housing crisis.
"We have got to do much more than the basic minimum to alleviate the current problem."
She added that Torbay was struggling to recruit staff for blue collar jobs as people could no longer afford to live there.
The tourist crush could be eased if more people decide to holiday outside of the peak school holiday period.
Meanwhile, several tourist spots in Dorset have seen residents calling for a tourist tax to combat the impact of visitors.
Residents in Bournemouth and Christchurch have demanded a tourist tax due to the amount of trash left on the area's beaches.
However, a councillor in the area has said that tourists already generate a lot of income for Bournemouth.
Source: Read Full Article