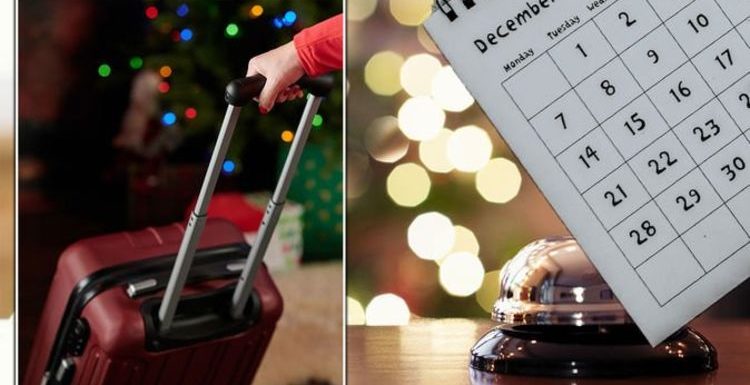 The One Show: Alex and Michael clash over staycations
We use your sign-up to provide content in ways you've consented to and to improve our understanding of you. This may include adverts from us and 3rd parties based on our understanding. You can unsubscribe at any time. More info
Christmas is just a matter of weeks away, and many families around the UK are preparing for their festive holidays. However, after last December's lockdown washout, demand for certain staycations are expected to surge.
In particular, there are certain dates in December which are most likely to book up faster.
But, there are some unexpected dates that may actually end up promising the most availability – and possibly even lower prices as a result.
According to Neena Jivraj Stevenson, chief culture officer at UK hotel chain Point A Hotels, the closer to Christmas Day the better hotel availability – and the chance of cheaper rates – may be.
Ms Jivraj Stevenson said: "The factor that makes the most difference at this time of year is the dates you're booking for."
As demand increases, prices can also go up – particularly as more popular rooms begin to fill.
However, if you feel like taking a mini-break in the days before December 25, you could be in luck.
Ms Jivraj Stevenson: "There's always a rush before Christmas, however the way the dates work this year means that things will be getting quieter again during the week beginning December 20.
"Our guests are clearly trying to get their Christmas breaks in early, keeping the 20th to 25th free for Christmas preparation and travel home.
DON'T MISS
Spain holidays threatened as country debates closing hotels [INSIGHT]
Flight attendant names the one seat you should avoid on a plane [INSIDER]
Christmas staycations: How to save money by booking on certain days [INTERVIEW]
For Point A hotels, their busy period "drops off" most significantly between December 20 and 27.
According to Ms Jivraj Stevenson, this is likely due to people "heading home for the Christmas week".
This could spark good news for your bank account, though.
Ms Jivraj Stevenson said: "What this means is the closer your break is to Christmas Day, the cheaper it can get before demand shoots back up at the end of the month for New Year celebrations.
"Ideally, you want to find that sweet spot in the few days before Christmas."
According Point A Hotels, the exact dates that are looking the best run between Monday, December 20 and Friday, December 24.
There are also some days which those looking to avoid crowds might want to avoid.
Ms Jivraj Stevenson said: "This year, we expect the busiest days for Christmas breaks to come between December 6 and December 20.
"Weekends during early December will be the most popular, and subsequently most expensive, slots for festive holidaymakers."
Four top tips for cheap Christmas staycation deals
Avoid weekends throughout December
Try to book your holiday as soon as possible
Consider taking your holiday between December 20 and 24
Look for seasonal deals
Source: Read Full Article