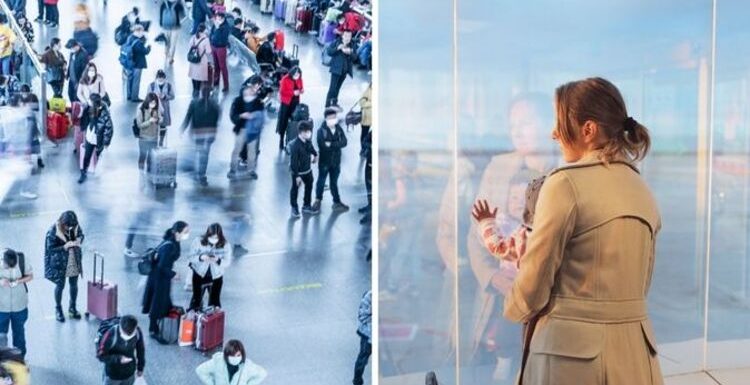 Heathrow: Chaos with travellers bags as BA cancels flights
We use your sign-up to provide content in ways you've consented to and to improve our understanding of you. This may include adverts from us and 3rd parties based on our understanding. You can unsubscribe at any time. More info
Storm Celia has hit the Canary Islands, with Tenerife coming under warning. But that's not the only issue in Tenerife, with chaotic scenes at the southern airport.
The disarray and disorganisation has affected passport controls, luggage collection, car rental and getting a taxi.
The Forum of Friends of the South of Tenerife (FAST) stated that it had received "numerous complaints" from tourists about "enormous queues".
It seems that Britons are flocking to the sunny destination for some mid-March respite.
FAST's president José Fernando Cabrera revealed that the airport virtually collapsed as holidaymakers descended on the island.
He asked: "What is the value of all the promotional effort made by Tenerife Tourism, the investments made by accommodation, restaurant and commercial establishments and the work of the employees of the sector if the disastrous operation of the terminal notably bothers our visitors?"
Adult travellers were adversely affected.
However, families with young children were even worse off.
He said that "the inconvenience and ineffectiveness of the south airport terminal has become the main complaint of tourists who visit the island of Tenerife and who arrive tired after five and six-hour flights".
It is certainly not the perfect start to a holiday.
He added that "the lack of vehicles gives rise to long waits and older people dragging their suitcases".
Mr. Cabrera, one of the most critical voices in the hotel sector regarding AENA's investment policy on the island, said the Secretary of State for Transportation, Isabel Pardo, guaranteed some reform.
This is planned to start from 2026.
However, improvements and investments will be made until 2030.
"He promised to send the draft of the specifications to convene an international project competition, with sufficient financial endowment so that the main international architecture studios could attend, and we are concerned, because five months have passed, a time that exceeds by far what was committed," he told island newspaper Diario de Avisos.
One improvement includes the construction of a new terminal.
Some work is currently taking place at the south airport but FAST says it is only a "very low cost fix".
This is "typical of the village sports centers of the 70s, which has nothing to do with the projects that AENA has developed in the national territory".
The Canary Islands faced major weather warnings when Storm Celia hit, particularly Fuerteventura, Lanzarote, La Palma, El Hierro, northern Tenerife and Gran Canaria.
Islands such as Tenerife, Gran Canaria and Lanzarote are particularly popular during winter due to the warm weather, however Tenerife is also known for its storms.
Tenerife North airport has been adversely affected, with two flights from Fuerteventura and Madrid diverted to Tenerife South yesterday.
Concerning the weather, @colimac1 took to Twitter, stating: "Ugh, horrible looking weather. Looks freezing."
@rachel_x95 stated: "This isn't the weather I signed up for."
Source: Read Full Article