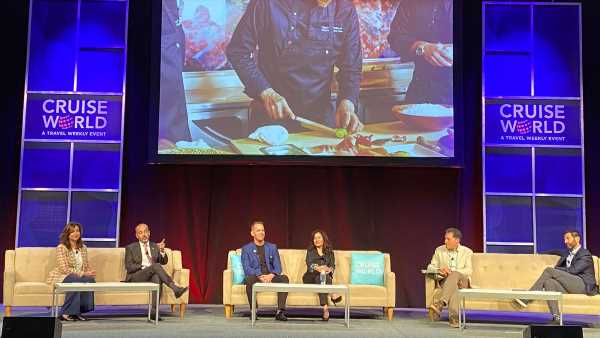 FORT LAUDERDALE — Four brand leaders discussed strategies and trends during the Carnival Corp. Presidents Panel at CruiseWorld on Wednesday. 
Carnival Cruise Line's Christine Duffy, Holland America Line's Gus Antorcha, Princess Cruises' John Padgett and Seabourn's Natalya Leahy fielded questions from Travel Weekly editor in chief Arnie Weissmann and a surprise moderator, Carnival Corp. CEO Josh Weinstein. Here are the highlights:
Princess customers love the bundles
Padgett said a majority of customers purchase a Plus or Premier package before they board a ship, saying that the bundles "ensure clients get bang for their buck."
The Plus package includes WiFi for one device, gratuities, a beverage package, premium desserts, two fitness classes, two meals at casual-dining specialty restaurants, delivery-to-anywhere food and beverage service and room service.
The Plus package is $60 per day, and Princess' pitch to customers is "Might as well save on things you're gonna do anyway."
It's a win-win for the customer and travel advisor because the bundles are commissionable.
"It pays to Plus," Padgett said.
Carnival capitalizes on lengthened booking window
Weissmann pointed out that right now Carnival customers can book a cruise through the first half of 2026. Duffy said the current demand supports it, especially among groups.
"We know there's more people traveling with groups, whether it's friends, reunions, weddings, multigenerational family trips," Duffy said. "I've always believed that part of the fun of a vacation is in the anticipation and planning."
Weissmann commented that there is risk in opening bookings for itineraries that don't sail until 2026 because business conditions can change, prompting a redeployment of ships. "We'll roll with those punches," Duffy responded.
Duffy also said that the earlier customers book, the better price they're going to get, a statement that echoes the new pricing policy of sister brand Princess, which has vowed to eliminate last-minute discounting. 
"We don't want to reward people who are booking at the last minute by discounting the price," she said.
Holland America Line's fish story
Antorcha said HAL did a lot of research on how the line could "make the dining experience even better, and fish came back as the answer."
"We've committed to sourcing fresh fish globally — over 80 species, 60 countries, 48 hours from the dock to our ship. That's a big commitment we're making, but it's very much what guests wanted."
The fresh-fish initiative goes hand in hand with HAL's partnership with Japanese chef Masaharu Morimoto of "Iron Chef" fame. He has introduced dishes that are served in HAL's dining rooms, plus the cruise line is rolling out pop-up restaurants called Morimoto at Sea.  
Seabourn: Luxury meets exploration
Weissmann asked Leahy about how Seabourn differentiates its expedition ships (the Seabourn Venture and Pursuit) from its nonexpedition luxury ships, and she had a straightforward, simple answer.
"Several years ago, we had a dream to bring Seabourn luxury into the world of exploration," Leahy said. 
She said that vision was realized with the Venture and Pursuit offering "the full Seabourn elegance and luxurious environment. We made expedition comfortable."
Source: Read Full Article