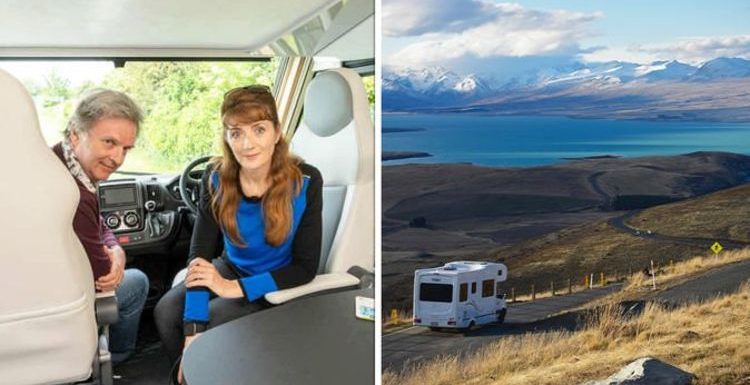 Paul Merton and Suki discover ceiling lights in the motorhome
We use your sign-up to provide content in ways you've consented to and to improve our understanding of you. This may include adverts from us and 3rd parties based on our understanding. You can unsubscribe at any time. More info
Caravan and motorhomes have seen a major surge in popularity this year, as many Britons opted for staycations. According to Paul Meton and Suki Webster, motorhomes allow "flexibility, freedom and gorgeous views all around."
In today's episode of Motorhoming with Merton and Webster, on Channel 5, Paul and Suki fell in love with the neighbour's van, which was "more homey" than theirs.
The couple were travelling across Wales and the Brecon Beacons National Park when they decide to stop and spend the night at a "lovely" campsite.
"How nice is this!" said Suki.
"And what is that music?"
As their neighbour was playing the guitar outside his caravan, they decided to go and introduce themselves.
Paul and Suki got to meet their charming campsite neighbours, Tom and Anita, who had a stunning caravan.
"Oh my God, you have a bar!" said Suki clearly impressed by the caravan's interior.
Tom and Anita then decided to show them around.
Suki was very impressed with the beautiful interior design, which featured a rustic decoration, wood panels to cover the walls and even a bar.
"I love the material," Suki said while pointing at some patterned cushions.
"How did you get the inspiration?" she wanted to know.
Suki immediately fell in love with the well-kept interior, the rustic décor and the charming details.
"It feels so homey.
"We have more room but it doesn't feel this homey," Suki concluded.
The neighbours had a tandem bike parked outside the caravan, which Paul and Suzi wanted to ride.
The couple were struggling to ride the bicycle together as the other couple enjoyed the show.
"Did you show them how to turn?" Tom asked.
To what his wife answer: "No!"
Paul and Suki finished their journey at Brecon Beacons National Park where they enjoyed dinner with a "lovely sunset view".
In the next episode, the couple will visit the beautiful Peak District, in England.
Source: Read Full Article