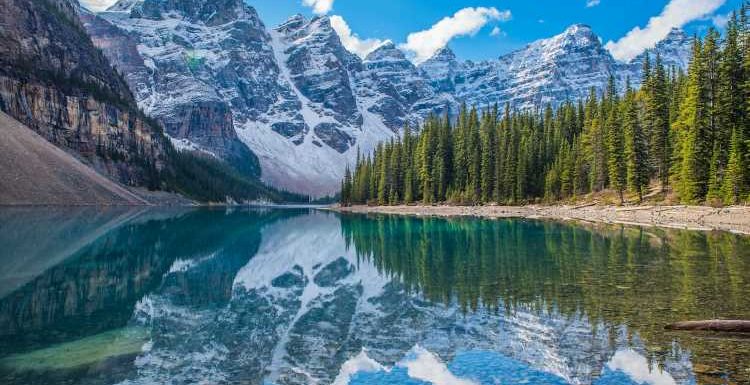 © Photo by Shutterstock
Canada Now Requires Three COVID Tests and Hotel Quarantine for Entry


Photo by Shutterstock Canada still remains mostly off limits for U.S. travelers.
For those who are still legally allowed to travel to Canada, and for Canadians returning home from abroad, getting into Canada just got more complicated.
Prime Minister Justin Trudeau on Friday announced that in addition to the preboarding negative COVID-19 test result and 14-day quarantine Canada already requires, the government will be introducing mandatory PCR testing at the airport followed by a three-day hotel quarantine for people entering the country.
"Travelers will then have to wait for up to three days at an approved hotel for their test results, at their own expense," Trudeau said. "Those with negative test results will then be able to quarantine at home under significantly increased surveillance and enforcement."
He estimated that the cost for the hotel stay, including a PCR test, security, food, and increased safety and security measures for hotel staff could be around $2,000 Canadian dollars (about US$1,500).  
"The cost is a ballparking. This isn't like any other facility. This is one where there has to be infection prevention control measures, security and other costs as well. It's not just a regular stay at a hotel," said Dr. Theresa Tam, Canada's chief public health officer.
Tam also said another test will be required on the 10th day after people return.
Video: New CDC travel restrictions to curb COVID-19 go into effect (TODAY)
Start your day with this upper body circuit

TODAY


It's leg day! Erica Lugo shares a beginner-friendly routine

TODAY


Get your heart pumping with this Erica Lugo workout

TODAY


Clean beauty and skin care products to check out now

TODAY


How to improve your spending habits in 2021

TODAY


Flu cases in US hit historic lows: Doctor explains why

TODAY


Biden announces new effort to ramp up vaccine distribution

TODAY


New CDC travel restrictions to curb COVID-19 go into effect

TODAY


Biden: 'This spring' everyone can get vaccine, we'll have 'herd immunity' this summer

TODAY


Healthy lifestyle tips from Dan Buettner

TODAY


How double masking may help protect you from mutant strains of coronavirus

TODAY


Are you a fan of the lunchtime workout?

TODAY


Al Roker learns how to make superfood smoothies, homemade granola

TODAY


Dr. Fauci: Double masking against mutant coronavirus 'just makes common sense'

TODAY


New warning about breast implants proposed by FDA

TODAY


Mel Robbins shares the 5-second rule that change her life

TODAY


Start your day with this upper body circuit
Ready to tone your shoulders and biceps? Trainer Erica Lugo will walk you through a three circuit exercise routine.


TODAY



It's leg day! Erica Lugo shares a beginner-friendly routine
This workout will tone your legs in no time! Bonus: You finish the workout with a 20-minute walk at your own pace.


TODAY



Get your heart pumping with this Erica Lugo workout
Have you ever heard of AMRAPs? It stands for as many rounds as possible in a certain amount of time. It is challenging and will get your heart rate up!


TODAY

The move is in response to new, likely more contagious variants of the novel coronavirus. The prime minister said those with positive test results will be immediately required to quarantine in designated government facilities to make sure they're not carrying variants of particular concern.
Trudeau also announced that the government and Canada's main airlines have agreed to suspend flight service to destinations in Mexico and the Caribbean. He said Air Canada, WestJet, Sunwing, and Air Transat are canceling service to all Caribbean destinations and Mexico starting January 31 and until April 30.
Canada already requires anyone age five or older entering the country to provide proof of a negative COVID-19 test in addition to submitting to a 14-day quarantine following arrival.
The existing rule requires airlines to verify that passengers have a negative COVID-19 polymerase chain reaction (PCR) or loop-mediated isothermal amplification (LAMP) test result received no more than 72 hours prior to departure. Passengers will be denied boarding without the result. 
"Anyone who receives a negative test result and is authorized to enter Canada must still complete the full, mandatory 14-day quarantine," according to Transport Canada, the Canadian government's transportation department.
Tam said that security contractors will be going door-to-door to check on returnees who are isolating at home.
Additionally, starting next week, all international passenger flights must land at the following four airports: Vancouver, Toronto, Calgary, and Montreal.
Travelers entering Canada are required to use the ArriveCAN app or website to provide their contact information and quarantine plan prior to or as they enter the country. Upon arrival, travelers' quarantine plans will be reviewed by border officials and if they are not deemed "suitable," the Canadian government will ask them to quarantine in a federal facility. By suitable, the Canadian government means that travelers must have advance plans for somewhere they can stay for at least 14 days, where they won't have contact with those deemed higher risk for severe illness due to COVID-19 unless those at higher risk consent to the quarantine. Violating the quarantine requirement is punishable by up to six months in jail and/or CAD $750,000 (US$589,000) in fines.
Those who can enter Canada from the United States include Canadian nationals, permanent residents, and those registered under Canada's Indian Act, as well as their family members. You can also cross the Canadian border for a family emergency. There are additional exceptions for temporary foreign workers, students, and essential workers.
This story was originally published on January 7, 2021, and was updated on January 29, 2021, to include current information. The Associated Press contributed reporting.
>> Next: What an Epic Canadian Train Trip Can Teach You About Kindness
Source: Read Full Article