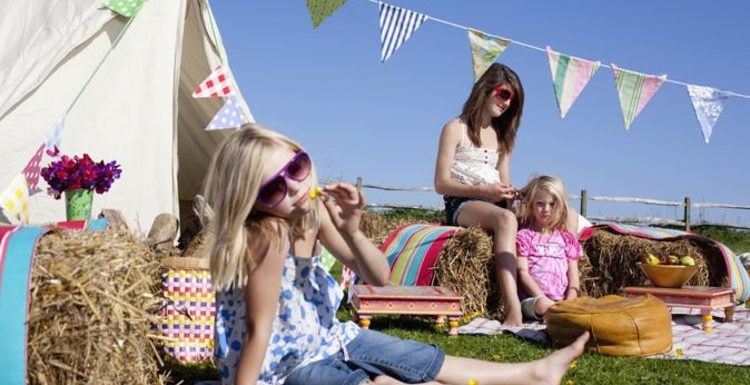 Escape to the Chateau: Dick and Angel create glamping site
We use your sign-up to provide content in ways you've consented to and to improve our understanding of you. This may include adverts from us and 3rd parties based on our understanding. You can unsubscribe at any time. More info
The most picturesque campsites around the UK have been named and Perthshire in Scotland is topping the list. Looking at Instagram tags, the Money UK website has compiled a list of the glamping and camping sites that attract the most buzz on social media.
In the top spot, Loch Tay Highland Lodges in Perthshire, Scotland is the most Instagrammable locations.
The glamping pods of the Lodges is all over social media, spotlighting the region as well as the site.
Lusty Glaze Beach in Cornwall, England, and Three Cliffs Bay Holiday Park in Gower, Wales, come second and third.
Lusty Glaze offers cottages and chalets, and glamping on a private beach. Instagram can't get enough of the location.
Three Cliffs, meanwhile, has facilities for camping and glamping as well as caravanning and a stay in the cottages.
The top three most picturesque campsites are far above the rest of the list, with each gathering over 30,000 hashtags.
The rest of the top 10 list is composed of English sites.
At number four, Eweleaze Farm in Dorset has over 5,000 tags, while Elmley Nature Reserve comes up in fifth and Camp Katur in North Yorkshire is sixth.
Eweleaze Farm is a family-friendly site with views of the sea and great facilities like Turkish baths, eco-showers, a farm shop and even its own private beach.
Elmley Nature Reserve is the only English reserve you can spend the night in. Bell tents, shepherd's huts, cabins and a cottage are available to book.
Camp Katur has three separate sites, each with its own character. Yurts, pods, safari tents and clear unidomes (360 degree panoramic domes) are on The Meadow, while stargazing geodomes are located on hill Farm. The Camp also features a lodge and two luxury geodomes.
Humble Bee Farm Glamping in Yorkshire and Blackberry Wood in East Sussex also make the list of most picturesque campsites in the UK.
Humble Bee Farm has glamping options, cabins and cottages, and a camping and caravan site that give visitors access to the working farm.
Blackberry Wood offers quirky glamping. From clearings in the woodlands and treehouses to a bus, a fire engine and a "holicopter," a unit inside a Search and Rescue helicopter, they offer some truly unique experiences.
Rounding up the list of picture-perfect campsites in the UK are far quieter spots, with around 500 hashtags.
Bryher Campsite on the Isles of Scilly and Campden Yurts in the Cotswolds attract less Instagrammers but still make the top 10.
You can bring your own tent or rent a fully equipped Bell Tent at Bryher Campsite. With ocean views, the site is next to a white sand beach and located on the smallest inhabited island in the Scillonian archipelago, Bryher.
Campden Yurts only has two yurts, but each has its own bathroom, campfire and hammock area. Perfect for a truly boutique experience.
The UK has too many amazing campsites and glamping options to count, but looking at social media posts, the top 10 places to stay are:
1. Loch Tay Highland Lodges, Perthshire, Scotland
2. Lusty Glaze Beach, Cornwall, England
3. Three Cliffs Bay Holiday Park, Gower, Wales
4. Eweleaze Farm, Dorset, England
5. Elmley Nature Reserve, Kent, England
6. Camp Katur, North Yorkshire, England
7. Humble Bee Farm Glamping, Yorkshire, England
8. Blackberry Wood, East Sussex, England
9. Bryher Campsite, Isles of Scilly, England
10. Campden Yurts, Cotswolds, England
Source: Read Full Article