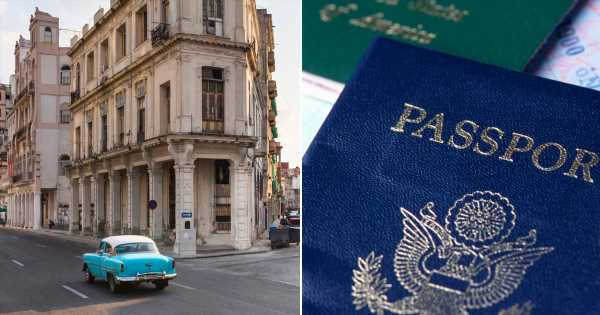 Going to the US is one of the top holiday choices Brits make.
Whether you dream of heading to Disney World in Florida or heading to Los Angeles for the Hollywood experience, there's plenty to do.
Those who love hot weather can head to New Orleans, Texas, sunny San Francisco or even the stunning national parks.
READ MORE: Passengers did 'double take' as massive bald eagle went through airport security
While those opting for a colder region can head to the Niagara Falls or see out the winter in New England.
However, recent updates to the visa requirements for Brits to enter the US left many feeling they would have to spend a fortune to get there.
Last year, the US added Cuba to its list of state sponsors of terrorism.
Anyone who has visited a country on this list before a certain date – including Iran, Syria and the Democratic People's Republic of Korea (North Korea) – cannot get an ESTA to enter the country.
Instead, Brits must apply for a visa and attend a meeting at the US Embassy in London before paying £129 to get the document.
The Gov UK website states: "You should be aware that if you have travelled to or have been in Iran, Iraq, Libya, North Korea, Somalia, Sudan, Syria and Yemen on or after March 1, 2011, you are normally not eligible for an ESTA visa waiver and will need to apply for a US visa.
"You should also be aware that if you have travelled to or have been in Cuba, you may not be eligible for an ESTA visa waiver and may need to apply for a US visa."
This advice has made many Brits worry that they'll have to shell out a fortune to visit the US if they have been to Cuba since 2011.
However, the US Embassy clarified when a visit to Cuba will affect your ability to get an ESTA (Electronic System for Travel Authorization).
A U.S. Department of State official told Daily Star: "The United States is completing the final steps to implement a change required by law to eligibility to travel under the Visa Waiver Program as a result of Cuba's designation by the United States as a state sponsor of terrorism.
"Travelers should expect that their travel to Cuba after the designation (January 11, 2021) will render them ineligible for participation in the Visa Waiver Program.
"For further information, we refer you to the Department of Homeland Security."
'Disneyland California is so realistic it will blow the minds of adult fans'
So, if your visit to Cuba was before 2021 you may still be able to travel on an ESTA.
You should consult the US State Department website to determine which you will need.
An ESTA is far cheaper than a US Visa at just $21 (currently £16.95).
Other rules which stop Brits from being able to get an ESTA include:
Those who have been arrested – even if they were not convicted
Those with a criminal record
Those who have been refused admission into the US
Anyone who has been deported from the US
Those who have previously overstayed an ESTA.
Further details are on the US Embassy Website as well as the gov.uk site.
READ NEXT:
Woman's jealous niece deliberately rips passport to ruin her Disneyland holiday

World's tallest woman goes on first flight as airline rips out six seats to make room

Man shares photo with 'identical twin' on holiday – but they're total strangers

Dad slated for using son's tip to get free holiday – and then leaving him behind
Source: Read Full Article