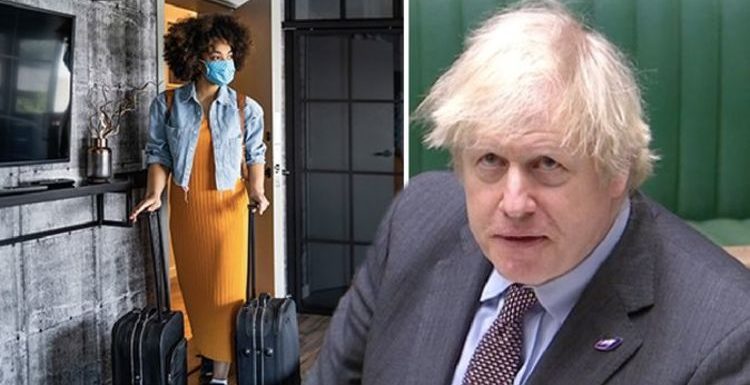 Boris Johnson announces new UK border restrictions
Prime Minister Boris Johnson has confirmed restrictions which will see arrivals from certain "high risk" destinations being forced to quarantine in a hotel at their own expense. The quarantine period will last for 10 days, during which travellers will be watched by security to ensure they do not leave their rooms.
Speaking in the House of Commons, the Prime Minister said: "To guard against this danger we must take additional steps to protect our borders against new strains of the virus.
"We have banned all travel from 22 countries where there is a risk of known variants including South Africa, Portugal and South American nations.
"In order to reduce the risk posed by UK nationals and residents returning home from these countries I can announce that we will require all such arrivals that cannot be refused entry to isolate in Government provided accommodation such as hotels for 10 days without exception.
"They will be met at the airport and transported directly into quarantine.
"The department for health and social care is working to establish these facilities as quickly as possible."
Home Secretary Priti Patel is set to outline further details of the plan in a press conference this afternoon.
We will use your email address only for sending you newsletters. Please see our Privacy Notice for details of your data protection rights.
However, travel experts have already spoken out regarding the quarantine measures, warning they could have a negative impact on the travel sector if they remain in place beyond March.
Emma Coulthurst from the holiday price comparison site, TravelSupermarket told Express.co.uk: "The Government's leaking of information over the last few days about a potential hotel quarantine measure without any indication of a timescale for it and a road map out of it will be destabilising consumer confidence.
"It is leading to sensationalism or speculation around whether we can take summer holidays, which are five months away."
She instead suggested the new measure should be "time-limited".
DON'T MISS
Pound euro exchange rate soars as markets 'optimistic' about vaccine [DATA]
Turkey holidays: FCDO issued update as entry rules tighten [ADVICE]
Camilla, Duchess of Cornwall's strict demands when she travels [INSIDER]
Ms Coulthurst continued: "Stop-start measures are not what is needed but a roadmap to enable travel to safely resume to protect the countries which we visit and also to ensure the virus is not brought in when we return.
"Let's [hope] that they will be lifted by the end of March and replaced with a testing regime to enable travel to resume safely again to countries where there is a low incidence of the virus.
"An easy to access, low-cost testing system has been needed since last March.
"Private testing is currently expensive and prohibitive to many at £100 or more per test.
"The UK Government needs to support low cost or, ideally, free testing for UK travellers which they can access in the community.
"UK travellers also need to know that they can rely on getting the test back in time – this hasn't always been the case with private testing."
Should measures continue, Paul Charles, CEO of the PC Agency warns it could result in devastation for airlines and holiday providers.
Speaking on the Evening Standard's The Leader podcast, he said: "I think you will see more casualties across aviation and travel simply because there comes a point where the cash runs out and if the Government does not extend the furlough scheme or does not offer more support schemes there comes a point when businesses can't really afford to trade or survive on what they have got.
"That would be a terrible shock to the economy and it would be a travesty of Government ministers to allow what was a strong aviation and travel sector in the UK to disappear and certainly be diluted."
Hotel quarantine measures could wipe out nearly £548 million per day from the UK economy in lost travel, according to the World Travel and Tourism Council (WTTC).
WTTC chief executive Gloria Guevara said: "The Government has a duty to share its economic impact assessment so we fully understand the effect these measures will have on the sector and the wider economy.
"If the UK is to have any hope of reviving the economy after the pandemic, we have to protect a sector which will be instrumental in kick-starting it."
Source: Read Full Article