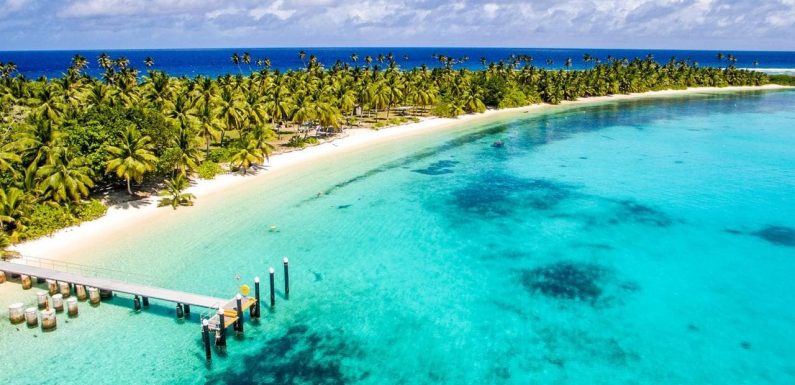 It may look like Kauai, the Hawaiian island used as the location for the Jurassic Park film … but this is actually Capella Lodge on Lord Howe Island in New South Wales.
Lord Howe Island is in the Tasman Sea east of Port Macquarie.
Capella Lodge on Lord Howe Island looks like a scene you'd find in Hawaii.Source:Supplied
It's characterised by sandy beaches, subtropical forests and beautiful clear waters. In the south, a trail winds up soaring Mount Gower, with sweeping views. Ned's Beach in the north has calm waters rich with fish and coral. The island is home to seabird colonies, including masked boobies. Incredible dive sites surround the nearby Admiralty Islands.
It may look like the moody lakes of Norway … but this is actually Pumphouse Point, on the southern hemisphere's deepest lake in the middle of Tasmania.
Pumphouse Point can be found in Tasmania. Picture: Stuart GibsonSource:Supplied
It's the perfect place to walk deep into the fjord-like surrounds of Lake St Clair, explore the giant myrtle forests, tread softly on the moss-covered understorey and forget the world you left behind.
It may look like an old timey building in Mexico … but it's actually in north Queensland. This Spanish-style castillo, now mostly in ruins, was built by José Paronella, a Catalonian who came to Australia in 1913 to work on the sugar cane fields, eventually buying and selling farms and amassing wealth.
The Spanish-style castillo is now mostly in ruins. Picture: SuppliedSource:Supplied
He first spotted this patch of virgin scrub along Mena Creek in 1914, buying it in 1929 for £120 with a dream to build a castle and pleasure gardens. It opened to the public in 1935.
It may look like a Parisian bistro … but this is Siglo wine bar in the Melbourne CBD.
Feels like you could be in Paris at this Melbourne bar.Source:Supplied
It looks onto the city's beautiful Parliament House and has a cracking wine list. What more could you want?
It may look like the crystal clear waters of the Galapagos Islands … but this is Maria Island – a mountainous island located in the Tasman Sea, off the east coast of Tasmania.
The water is cold, but Maria Island has one of the best beaches in Tasmania. Picture: Living in TassieSource:Supplied
Originally a penal station set up in 1825, over the years it has been used for convicts, and as a sheep station, before being declared a national park in 1971.
It may look like a cenote in Mexico … but it's actually the Mataranka thermal pool, near Katherine in the Northern Territory. You'll find it in the Elsey National Park.
Not a cenote in Mexico … rather the Mataranka Thermal Pool at Elsey National Park in the Northern Territory. Picture: Tourism NTSource:Supplied
It is safe to swim here and the springs are a perfect 34C all year. Word to the wise: The rest of the national park waterways are crocodile habitat, so no swimming.
It may look like a European mountain chalet … but it's Ronny Creek, near Cradle Mountain in Tasmania. Iconic Cradle Mountain is a place of exceptional natural beauty in the heart of the Tasmanian Wilderness World Heritage Area.
Who said you need to go to Europe to find a cosy snow-covered chalet?Source:Supplied
From moss-covered ancient rainforests and deep river gorges to snow-covered mountain peaks, wild alpine moorlands and glacial lakes, the park is revered for its diverse and breathtaking landscapes.
It may look like an island in the South Pacific … but this is Lizard Island, on the Great Barrier Reef in Queensland. As the northern most resort on the Great Barrier Reef, and a luxury lodge of Australia, Lizard Island is truly secluded from the rest of the world.
Lizard Island on the Great Barrier Reef.Source:Supplied
The hour flight from Cairns allows you to take in the true majesty and scale of the reef, and the resort is literally on the reef.
It may look like a beer hall in Germany … but this is the town of Hahndorf in South Australia. Located just half an hour from Adelaide, Hahndorf is a contemporary village proud of its German heritage.
Hahndorf is like stepping into a pub in Munich.Source:Supplied
Stroll the tree-lined main street and discover butcher, baker and candlestick makers, shops, galleries and studios, a cheesemaker, leathersmith, jeweller, a craft brewery, winery cellar doors, gin distillery, chocolatier, traditional sweet shops, German-style pubs, multicultural restaurants and cafes.
It may look like a spa in Sweden … but this is the Peninsula Hot Springs, on the Mornington Peninsula in Victoria. It's an award-winning natural hot springs and day spa destination, just 90 minutes from Melbourne.
The Peninsula Hot Springs in Victoria. Picture: Visit VictoriaSource:Supplied
Natural thermal mineral waters flow into the pools and private baths at this coastal oasis, providing an idyllic setting for relaxation and rejuvenation.
It may look like a swimming spot on Italy's Amalfi Coast … but these are the Fairy Pools in Noosa, Queensland.
Don't worry about going to the Almalfi coast … head to Noosa's Fairy Pools instead. Picture: Ash Schutt from Lemon Poppy PhotographySource:News Regional Media
It may look like a vineyard on Crete … but it's actually Skillogalee Wines in South Australia's Clare Valley. The cellar door and restaurant are set in a historic settler's cottage, surrounded by cottage gardens where guests may sample their estate-grown wines or lunch al fresco (in the kinder weather) on the veranda or under the shade of an old olive tree. In winter there are log fires and warm rugs to keep you cosy.
Not a bad place to stop in South Australia on a wine tour.Source:Supplied
It may look like an island in Fiji … but it's actually the Cocos Keeling Islands – a remote territory of Australia in the Indian Ocean. Its two coral atolls comprise 27 tiny islands with white­-sand beaches, palm trees and lagoons. Only two of the islands are inhabited.
A trip to Cocos Keeling Islands in 2021 anyone?Source:News Regional Media
The islands are situated 2750km northwest of Perth and 900km from Christmas Island.
It may look like a farm in Provence, France … but this lavender farm is actually found in Nabowla, Tasmania.
Bridestowe Lavender Estate grows true French lavender (Lavandula angustifolia), the only variety suitable for use in perfume and cooking – so a visit here provides a true paddock to plate experience.
Looks like a nice spot to take your next Instagram display picture. Picture: iStockSource:istock
It may look like a jungle in South America … but this is the Daintree rainforest in Far North Queensland. Covering 1200sq km between Mossman Gorge and Bloomfield River, the Daintree Rainforest is one of the most complex ecosystems on Earth.
Nothing will rival the rainforest experience like a trip to the Daintree.Source:Supplied
An estimated 180 million years old, it is tens of millions of years older than the Amazon and contains living examples of unique ancient plants as well as thousands of species of birds, animals and reptiles.
It may look like a swimming spot in the Mediterranean … but this is Mount Martha on Victoria's Mornington Peninsula. When we posted this picture from Anthony Lawrence on our Instagram page, it blew up.
Not quite the Med … more like the Mornington. Picture: Lawrence PinderSource:News Corp Australia
People couldn't believe that this was in our own backyard … which is a timely reminder that while we might not be able to venture overseas at the moment, there are plenty of drool-worthy places right here in Australia. Hopefully this gallery has provided you with a little inspiration for your next Aussie adventure.
trending in travel

Source: Read Full Article