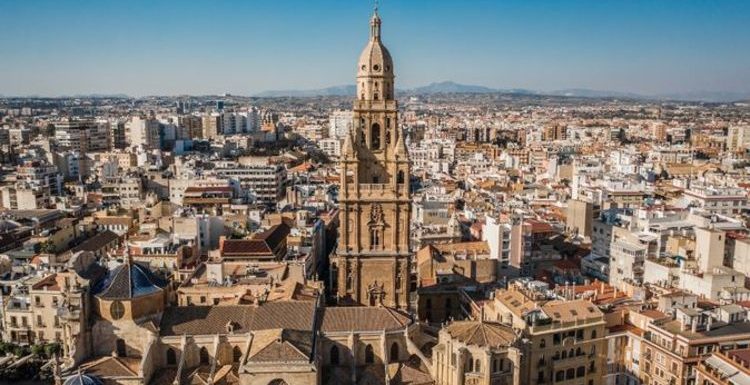 Travel ban: Epidemiologist says 'closing borders does not work'
We use your sign-up to provide content in ways you've consented to and to improve our understanding of you. This may include adverts from us and 3rd parties based on our understanding. You can unsubscribe at any time. More info
The region of Murcia in Spain has introduced new restrictions as Omicron cases surge in Spain. Non-essential venues will have to close between one and six in the morning.
Health officials in Murcia announced that all non-essential activity must close between 1am and 6am starting on Christmas Eve.
The measure will be in place until at least January 14. Party loving Britons will be disappointed as dance floors at nightclubs will be closed under the new measures.
There will also be restrictions on group numbers at restaurants with 10 people allowed to eat together inside while 12 can sit outside.
Cinemas and other entertainment venues will see capacity reduced to 50 percent in an effort to keep case numbers down.
Murcia's regional leader, Fernando Lopez Miras said: "The idea is to try to limit, during Christmas, social interactions where the mask is not used."
The region of Murcia encompasses the popular tourist destinations of Los Alcazares and La Manga.
Spain's Government announced this week that masks would once again be mandatory outside.
Some health experts have questioned whether wearing masks outdoors has any material benefit.
The Prime Minister, Pedro Sanchez, has said that there will be no further nationwide measures before Christmas.
Spain's Health Minister, Carolina Darias, said: "I want to state that this will be a temporary measure, only for as long as necessary until the epidemiological situation we find ourselves in improves."
Mask wearing was already compulsory at all indoor venues in Spain and on public transport.
The region of Catalonia has limited social gatherings to 10 people while capacity at sporting and religious gatherings will be reduced to 70 percent.
Leaders in the region of Madrid have vowed to focus on better testing rather than implementing restrictions.
Spain has already banned unvaccinated British people from travelling to the country over Omicron fears.
The move forced some Britons to cancel their holidays as many teenagers in the UK had not had a chance to be fully vaccinated.
One hospitality group in Benidorm claimed that one British tour operator had cancelled 60,000 holidays due to the rule.
The group claimed that hotels in Benidorm had been "forced" to close early due to the lack of Britons.
British tourists visiting Spain will need to take a pre-departure test before travelling back to the UK.
They will also need to take a PCR test on or before day two after arrival in the UK and isolate until they get the result.
British tourists should also check the local restrictions in place in their destination as rules vary across Spain.
Source: Read Full Article