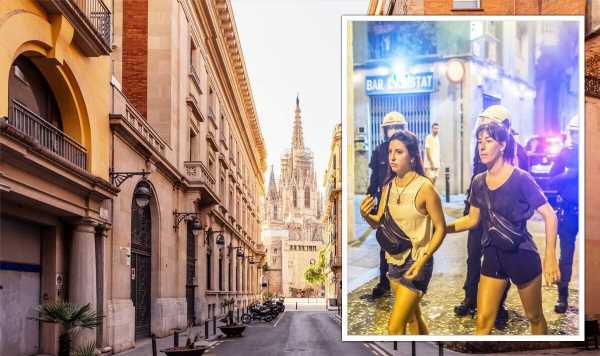 Simon Calder discusses post-Brexit passport rules for travellers
We use your sign-up to provide content in ways you've consented to and to improve our understanding of you. This may include adverts from us and 3rd parties based on our understanding. You can unsubscribe at any time. More info
Spain is one of the world's most popular tourist destinations and tops the list for British holidaymakers. However, residents in some areas of the Mediterranean country have had enough.
"Last summer, it was hell. Everything was shut but people still came for the weekend and had outdoor drinking parties on the beach and in the street", one local resident in Barcelona told The Guardian.
Barcelona has previously been named Europe's best city break and attracts tourists from all over the world.
While the city is famous for its romantic Gothic Quarter and art galleries with Picasso's masterpieces, many tourists travel to party.
Some local residents have now had enough of the city's "booze tourism" and want numbers restricted.
Many restaurants and tourism businesses in Barcelona struggled during the pandemic but residents were able to experience the city without huge numbers of tourists.
Some residents would now like controls to be introduced to stop over tourism and combat heavy drinking.
People who live in the city's Gothic Quarter have described it as "impossible" to live a normal life due to the amount of tourists.
Barcelona has already announced plans to tax cruise passengers and some officials would like to limit the number of cruise tourists.
Cruise tourists tend to limit the amount of money they spend in a city as they often eat and drink onboard.
Despite residents' fears, bookings have soared for the summer period and one said Barcelona will be "monstrous" this year.
The city's plans to limit tourism are often controversial as so many of Barcelona's businesses and restaurants make a living from visitors.
Several officials have proposed plans to encourage tourists to visit more areas of the city than the most popular tourist spots.
Meanwhile, Spain is set to increase police presence in mass tourism areas this summer.
Over 3,500 extra officers will police popular tourist spots including the Canary islands, Balearic islands, Costa del Sol and Costa Blanca.
The extra officers will hit the streets at the start of July and remain in place until the end of August.
The plan is intended to keep visitors safe and stop tourists from breaking laws on drinking or other banned behaviour.
Tourists in Spain must follow certain rules and could face heavy fines for breaking laws such as climbing on balconies.
Britons must also wear a shirt in some Spanish towns as it is forbidden to be topless away from the beach.
One of Majorca's party districts, Playa de Palma, has recently launched a crackdown on football shirt wearing tourists.
Several businesses came together to introduce the ban in an attempt to put off drunken visitors.
Source: Read Full Article