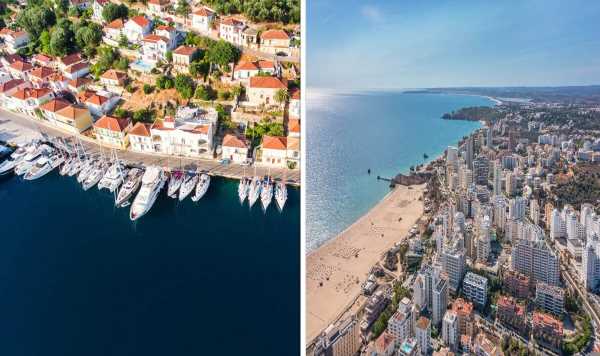 Travel chaos: Flying to be 'more expensive' reveals expert
We use your sign-up to provide content in ways you've consented to and to improve our understanding of you. This may include adverts from us and 3rd parties based on our understanding. You can unsubscribe at any time. More info
Property experts at YourOverseasHome.com analysed the cheapest coastal areas for expat property in Europe. They looked at the most affordable destinations for seaview houses in Spain, France, Portugal and more.
Costa de Almeria (Spain)
Spain's Costa de Almeria might be less well known than the favoured Costa Blanca and Costa del Sol but it offers some stunning beaches.
Chris Nye, from YourOverseasHome.com, said: "The Costa de Almeria was one of the last of Spain's Mediterranean coasts to become touristy and they didn't even bother to give it a cool name, like the Costa Tropical on one side and Costa Calida on the other.
"Still, it's regarded as quite Bohemian and even a little wild, with a coast popular for naturism!
"With warm and sunny weather all year round, and easy accessibility via its own airport, there is a lot of appeal here."
Prices for a two bedroom apartment in the Costa de Almeria start at 50,000 euros (£42,000) but will be double that by the sea.
Landes (France)
Dreaming of life in the south of France? Landes in the south-west of the country is surprisingly affordable.
Chris said: "Landes is in the far south-west, where heathland meets the Bay of Biscay.
"To the north is Bordeaux and the south is Biarritz. Although within the popular Nouvelle-Aquitaine region, Landes is relatively undiscovered, as is its coastline, the Cote d'Argent (Silver Coast).
"Think of miles upon miles of empty beaches with amazing surfing."
Two bedroom coastal apartments cost around 200,000 euros which is a bargain £170,000 for a place by the beach.
Lagos and Portimao (Portugal)
The Algarve is one of Portugal's most popular areas for British expats but there are a few cheaper areas away from the Golden Triangle.
Chris said: "The western end of the Algarve, furthest from Faro Airport and at the furthest extremity of mainland Europe, offers excellent value for money.
"That's not to say it's cheap, but certainly less expensive than the 'golden triangle' based around Vilamoura.
"It's a little less touristy, yet with a good year-round population and easy accessibility from Faro.
"The sea here is sensational – cooler in every way than the Mediterranean and great for surfing and kitesurfing,swimming, kayaking and even whale watching."
Two bedroom apartments in Portimao sell for around 150,000 euros (£126,000).
Larnaca, Cyprus
Cyprus offers guaranteed good weather for Britons for much of the year and could be a great choice for expats.
Chris said: "Larnaca is an up and coming part of Cyrus – cheaper than either Limassol or Paphos or the more touristy Famagusta in the East.
"It's easy to reach all year because although flights to the Greek islands generally stop in winter, they continue to Cyprus.
"Cyprus is also very easy to move to as it's so pro-British – they even drive on the left! So you'll find a big expat community here, and a year round population."
Two bedroom apartments in Larnaca start at around 100,000 euros (£84,000).
Source: Read Full Article