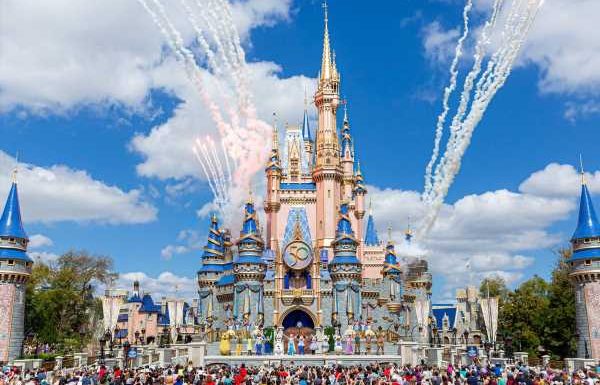 Disney World and Disneyland have announced updates designed to give guests more flexibility and value. 
Disney World in Orlando has eliminated the overnight self-parking fee at its hotels. Standard parking at theme parks for Disney hotel guests remains complimentary.
For annual passholders, which Disney called "some of our most loyal guests," Disney World will soon drop reservation requirements after 2 p.m. Currently, annual passholders need a park reservation to enter a theme park. Beginning in the next few months, annual passholders will be able to enter parks without reservations after 2 p.m. Blackout dates will continue to apply.
Also in the next few months, guests who purchase Genie Plus at Disney World will receive complimentary digital downloads of Disney PhotoPass attraction photos taken the day they purchased Genie Plus.
"Please know we will keep listening to you and adapting as we focus on making the guest experience even better for more people who visit us here at the Most Magical Place on Earth," Disney said.
Over at Disneyland, guests with either Magic Key or Park Hopper tickets will be able to hop from one theme park to the other earlier. Starting Feb. 4, park hopping will begin at 11 a.m.
Disneyland said it is also giving guests more chances to visit the parks with $104 tickets — the lowest one-day, one-park rate — with nearly two months' worth of tickets at that price point in 2023.
Also at Disneyland, digital Disney PhotoPass attraction photos will be free for all ticketed park guests via the Disneyland app starting Feb. 4 throughout the Disney100 celebration.
And, Disneyland will make select Magic Key passes available for new sales from time to time throughout 2023 as pass inventory becomes available, Disney said.
Fans anticipated changes with Iger back in charge
The changes come after Disney made the surprising decision in November to remove Bob Chapek as CEO and replace him with his predecessor, Bob Iger. Travel advisors and Disney fans alike have eagerly awaited news of changes within the theme parks.
 Among the most common guest complaints were the cost of things at Disney parks, especially amid surging prices for Genie Plus and Lightning Lanes passes on the busiest days and the lack of flexibility with required park reservations and park hopping only available in the afternoon.
A chance to save on Disney dining
Also, Disney World last week unveiled a dining promotion. Guests purchasing nondiscounted five-night, four-day packages at Disney resorts, including theme park tickets, can get up to a $750 Disney Dining Promo Card depending on resort category. That promotion is valid for arrivals most nights from July 1 to 10 and Aug. 1 to Sept. 14.
Disney fans are still awaiting the return of the Disney Dining Plan, which was suspended in March 2020.
Source: Read Full Article