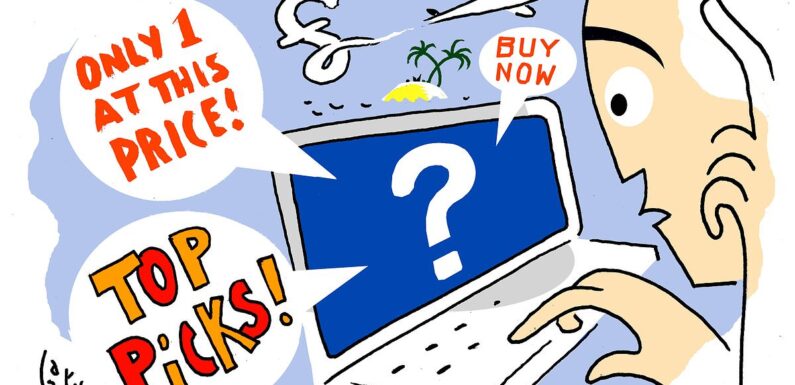 Should you Booking.com it? The reservation website has spread its tentacles across the globe. But do you get the best prices… and is it safe?
Booking.com is the world's largest travel agent, with 21,600 employees
Here, we look at the pitfalls of using the provider – and how to avoid them
READ MORE: The cheapest and most expensive cities in the UK for beer
From humble beginnings as the idea of a Dutch university student in 1996, Booking.com has become the world's largest travel agent.
With 21,600 employees, two million holiday properties on its books and an annual turnover of £13.9 billion, it is now (very) big business. But is it in danger of becoming too big for its boots? And what are the pitfalls of using the provider?
In the U.S., questions are beginning to be asked about the website, with authorities in Texas taking the unusual step of suing the company for 'deceptive trade practices', saying it doesn't mention extra costs such as local taxes and fees.
Here's our guide to avoiding the pitfalls with Booking.com and getting a good rate for your stay
'I WAS NEARLY SCAMMED'
One user shares his Booking.com story
'Just over a month ago I used Booking.com for a short stay at the Britannia Hotel in Trondheim, Norway,' says Tony Smith from Manchester. 'Some 24 hours after making my booking I received a very authentic-looking email, purporting to be from the hotel via Booking.com requesting additional card verification.'
This email had the Booking.com number and details of Mr Smith's reservation. He then received a message from the hotel via Booking.com stating: 'Urgent. Do not click the link. This was a spam link. Disregard and delete.' He added: 'There is surely a matter of public concern here. Are Booking.com's information security systems up to scratch?'
In a statement, Booking.com said: 'While the security breach was not on Booking.com, we know that the accounts of some of our accommodation partners were affected and we have actively been supporting our partners, as well as any potentially impacted customers.
'If a customer does ever have any concerns about a payment message they receive then we encourage them to reach out to our customer service team who are available 24/7.'
Booking.com operates differently in other countries and there is no suggestion the same thing is happening in the UK.
Nevertheless, it has been plagued by mutterings of discontent from users here. Cyber security problems have been raised and there have been allegations of manipulative sales techniques, which have resulted in a European Commission ruling demanding better price clarity. Concerns have also been aired with the UK's Competition And Markets Authority about high prices due to hotels paying commissions to Booking.com. Here's our guide to avoiding the pitfalls and getting a good rate for your stay.
BEWARE 'TOP PICKS'
The first hotels listed, the 'top picks', are selected by Booking.com with commercial reasons in mind. Change the search criteria from 'recommended' to 'property rating (high to low)' and you will have a better idea of what are the best choices based on the body of customer reviews.
SUSPICIOUS REVIEWS
This is a problem across the internet. We found a hotel topping the recommendations in Menorca on Booking.com that was described as 'very good' in big typeface alongside its listing. Looking at the reviews, however, we only found the words used three times in identical reviews from three non-English-speaking countries. Each only said: 'Very good.'
CHECK DIRECT PRICES
Looking up prices on Booking.com is convenient, but cross-check with the accommodation provider. Going direct can be cheaper and extras such as breakfasts, a bottle of wine or a discount in the spa could be included.
SHOP AROUND
Also try other search engines such as Hotels.com and Expedia.co.uk — prices are often lower. Independent travel comparison site Ratepunk.com has estimated Booking.com is the cheapest option in as few as 7 per cent of its searches.
DON'T PANIC
When messages pop up saying 'only one left at this price' or '34 people have viewed this in the last hour': don't panic. It could be that these messages mean one room is available at that price at that moment, or 34 people are looking at the same hotel, but for different dates, rooms and reasons.
CHECK LOW RATINGS
It's always worth a quick look at the worst reviews to see what problems some guests have had. They may not be completely representative, but they are unlikely to be made-up.
BE TECH SAVVY
Use another 'device' and you may find a better price, ie, if you find one rate on your laptop, take a look on your mobile phone. Usually, but not always, prices are lowest on mobile phone using the Booking.com app.
Have you had difficulties with Booking.com? Email us at [email protected], ref 'Booking.com'
Source: Read Full Article