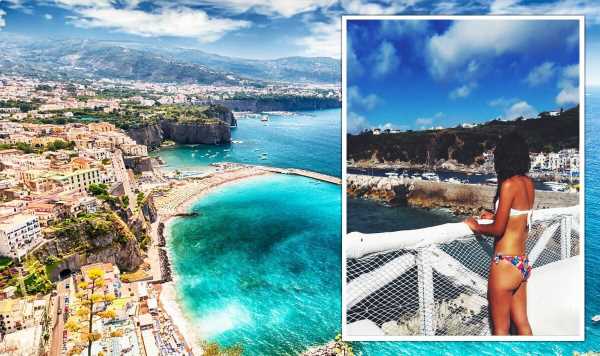 Queen's travel costs are 'frightening' says royal expert
We use your sign-up to provide content in ways you've consented to and to improve our understanding of you. This may include adverts from us and 3rd parties based on our understanding. You can unsubscribe at any time. More info
Sorrento, on Italy's gorgeous Amalfi coast has introduced a ban on bikinis and topless tourists. The town's mayor said the two pieces caused "discomfort".
Sorrento is extremely popular with Instagrammers and draws thousands of tourists to its shores every year.
However, local residents are reportedly fed up with tourists walking around the town in their holiday two pieces.
Mayor, Massimo Coppola, told local media that bikinis were "seen by the majority of people as contrary to decorum and to the decency that characterises civilised cohabitation."
He said: "The continuation of this situation, as well as causing discomfort and unease in the resident population and among visitors, could lead to a negative judgement on the quality of life in our town, with consequences for its image and for tourism."
Recently, a local journalist said that tourists in bikinis were turning Sorrento into a scene from hellish Dante's Inferno.
Scantily clad tourists can often be seen walking around Sorrento and other towns along the Amalfi coast.
Tourists could be fined up to 500 euros (£425) for defying the ban and shirtless holidaymakers will also be covered by the ban.
The town is particularly popular with social media influencers due to its pastel buildings and clifftop restaurants.
Several movies have been filmed in Sorrento including Love is All You Need, starring Pierce Brosnan.
The Amalfi coast is also attempting to crack down on the number of tourists visiting the region this summer.
Under new laws, tourists will only be allowed to drive along the breathtaking ocean road on odd days if their car ends in an odd number plate.
Cars with even numbers will be able to use the road on the other days and the law covers tourists buses and vehicles.
Public transport and local residents are exempt from the ban which is designed to stop the lengthy traffic jams that plague the Amalfi coast in summer.
Dress codes have also been introduced in the popular Majorcan resort of Playa de Palma for this summer.
Around 11 restaurants and bars have banned punters wearing football shirts, trunks and strapless boob tubes.
The move is reportedly designed to crack down on drunken behaviour which is common in the resort.
Meanwhile, Instagrammers could also be impacted by new fees to enter the Italian city of Venice.
Daytrippers will need to pay a fee to visit the canal city in a new move to reduce the number of visitors to the city.
Tourists who stay overnight will not need to pay the additional charge as they are already taxed to stay.
Venice's mayor recently raged on social media after a historical church was graffitied in an act of vandalism.
Source: Read Full Article