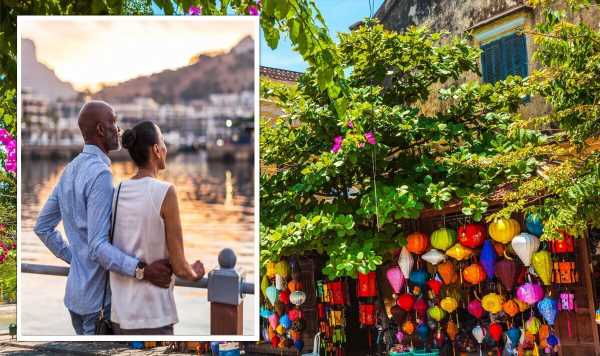 King Charles to be a travelling monarch says Arbiter
We use your sign-up to provide content in ways you've consented to and to improve our understanding of you. This may include adverts from us and 3rd parties based on our understanding. You can unsubscribe at any time. More info
British tourists looking to escape the UK winter have plenty of exotic destinations to choose from. But where will Britons get the best value this year?
According to new research from Post Office Travel Money, prices have risen in 80 percent of long-haul winter sun destinations since 2019.
However, there are a few sunny spots where prices have fallen and British tourists can find a good deal.
According to Post Office and YouGov research nearly three in five Britons felt their holiday plans would be affected by the pound's fall.
A third of Britons said they would cut their spending budget and look for cheaper holiday destinations.
Best value long-haul winter sun destinations (Post Office Travel Money)
Hoi An, Vietnam
Cape Town, South Africa
Mombasa, Kenya
Tokyo, Japan
Bali, Indonesia
Phuket, Thailand
Rio, Brazil
Montego Bay, Jamaica
Orlando, USA
Penang, Malaysia
Hoi An in Vietnam was ranked the best value long-haul destination for a holiday in winter 2022/2023.
A cup of coffee in Hoi An cost just £1.60 while a bottle of local beer cost £1.78 with a glass of wine just £3.90.
Hoi An is an enchanting city with an incredibly preserved ancient town and delicious food and drink.
Vietnam is known for its coffee made with condensed milk and street food including pho and banh xeo crepes.
Cape Town in South Africa took the second spot and tourists can expect to pay just £1.89 for a coffee there.
A cocktail costs just £4.33 in the stunning South African city which sits beneath imposing Table Mountain.
Nick Boden, Head of Post Office Travel Money, said: "With continuing uncertainty about sterling, it is more important than ever before for people planning winter sun holidays to do their homework and be aware of prices in destinations they are considering.
"Holiday costs remain low in popular long haul resorts like Vietnam, Thailand and Jamaica but people who choose the wrong destination risk falling victim to higher prices."
Destinations including BridgeTown in Barbados, Santiago in Chile and New York were some of the most expensive long-haul destinations.
Mr Boden added: "We advise people planning long haul trips to watch exchange rate movements in the weeks before their departure and purchase their holiday money when the pound rises in value.
"Our research shows that prices are higher in many destinations than in Europe."
Lesley Rollo, managing director at Travelbag, said: "What this report shows once again is the importance of doing your research before you book, and speaking to travel experts with on-the-ground visibility of what's happening in your chosen destination.
"Our teams speak regularly with their contacts across the world about the destinations featured in this report and are well places to make the decision of would-be travellers about where to go much easier."
Source: Read Full Article