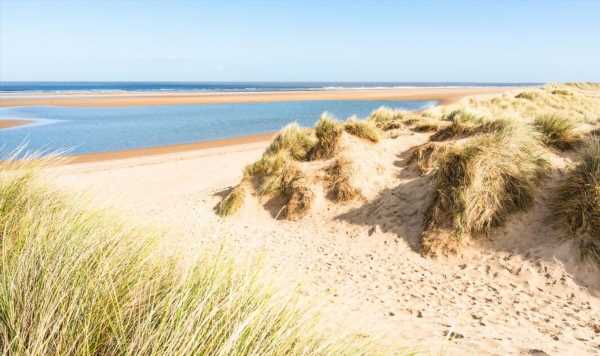 Holkham Beach is located close to the Sandringham Estate, a Royal country retreat. The breathtaking beach is one of the UK's best.
Holkham Beach on North Norfolk's coast is one of the country's most unspoilt stretches of golden sand.
On hot days, tourists can shelter from the sea beneath the pine trees and it's possible to walk for miles without seeing a building.
The Royal Family has visited the beach for generations and the Queen and Duke of Edinburgh used to take their children there.
In a fun family photo, King Charles III and Princess Anne were once photographed buried up to their necks in the sand.
In a 2016 BBC documentary, Elizabeth at 90: A Family Tribute, footage from the family's trips at the beach was shown.
King Charles II said: "It was always such fun playing hide and seek in those dunes. I remember that so well, isn't that funny. Vividly."
Holkham Beach has kept its appeal for the Royal Family and it is thought that Prince William and Kate have holidayed there with their children.
Photos taken by Kate that were released for Prince Louis' fourth birthday are thought to have been shot at the stunning beach.
Don't miss…
Best British Airways deals March 2023[DEAL]
US tourists slam British Museum because artefacts are 'stolen' [NEWS]
Tourist pickpocket warning as travellers told when to 'be careful'[WARNING]
The Royal couple are also thought to have used the beach as a backdrop in their 10th wedding anniversary video.
Holkham has other claims to fame and was used as the final shot in the Oscar winning film, Shakespeare in Love.
Gwenyth Paltrow was filmed as she walked along the shore, cementing the beach's popularity.
A recent visitor wrote on Tripadvisor: "Beautiful beach. The vastness of the beach is truly stunning."
Another person said: "What a glorious bay and beach! We were very fortunate with the weather but had a really great walk."
Dogs are welcome on Holkham Beach year-round but have to be on the lead between April and August in some areas.
The beach is also a popular horse riding spot and tourists are allowed to bring their own horse there to ride.
It is safe to swim at the beach but tourists should only swim in areas marked safe by flags. There is a lifeguard in some areas from July to September.
The beach is part of Holkham National Nature Reserve and serves as habitat for large flocks of wintering birds.
In summer, the beach's dunes come alive with yellow flowers and attract a huge range of butterflies.
Tourists should check the tide times before they travel to the beach as the tide can come in quickly.
Visitors can bring a picnic to the beach as it is fairly remote and tourists will need to pay for parking.
Source: Read Full Article