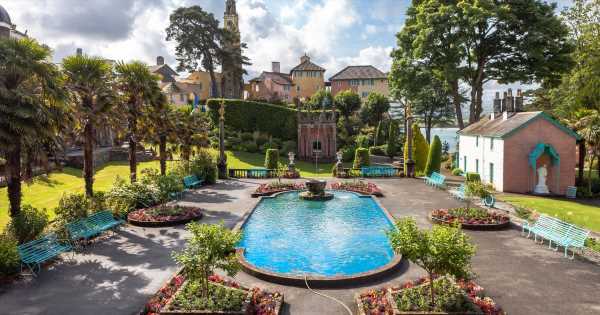 A village in the UK with unusual buildings and tropical plants looks like it should be in Italy – except it's in North Wales.
The gorgeous resort-like area looks like the Italian Rivera thanks to its elegant, colourful architecture, sprawling gardens and outdoor dining spaces, but it's actually Portmeirion in Gwynedd.
The charming village is filled with classical statues, tiny Juliet balconies and domed roofs, while the buildings themselves are in heaps of colourful pastel hues – and therefore it's no surprise it's always a hit on social media.
READ MORE: Beautiful seaside town proves a hit – and it's also one of the UK's poshest places
To add to the mystery there's even subtropical woodland surrounding the houses in palm trees, plus a Chinese Lake, bell tower and a large piazza – and of course, no Italian tribute is complete without a gelato shop or two.
The Welsh locale is the perfect spot for a UK holiday as it's filled with hotels, cottages, a spa room, restaurants and cafes.
The award-winning Hotel Portmeirion is a stunning Art Deco eatery where you can eat local produce outside while the sun shines as well as plenty of pizza.
Plus, there are three shops perfect for tourists selling everything from pottery to preserves, wine and confections.
The village is one of Wales' central attractions for visitors as 200,000 people flock there each year.
Unfortunately for pooch lovers, dogs are not allowed within the area except for guide dogs or assistance animals.
You will also need to buy a ticket to access Portmeirion – out of season day tickets start from £5 for children and £10 for adults.
Kids under five are free.
Busy season day tickets (from March 2 until November 5) start at £11 for children and £18 for adults.
Students and over 60s can get a concession ticket for £14.50.
There are also family packages starting from £31 and annual memberships from £35.
The area was build between 1925 and 1976 by architect Clough Williams-Ellis .
There are some lovely places to stay overnight in the village too.
A cheaper option is the Motorhome Park where there are three pitch sizes for camper vans and caravans.
A pitch starts from £55 and comes with electric, TV and water hook ups as well as wash rooms, showers and toilets, drainage and grey water tanks, refuse areas and picnic zones.
There are also 13 self-catering cottages in the village with full cooking facilities Guests enjoy free entry into Portmeirion Village and Gardens and use of the heated outdoor swimming pool.
Hotels include the incredible 4-star Gothic Castell Deudraeth which offers both rooms and suites, free access to the village and there's a restaurant and Victorian walled garden on site.
Hotel Portmeirion is a luxury stay option with views of Snowdonia, North Wales.
There are 14 rooms as well as a bar, restaurant and terrace.
If you choose to stay you won't have to pay for a ticket to Portmeirion – so it could be the cheaper option for families.
Book your tickets, pitch or rooms at portmeirion.wales.
Would you visit this unusual place? Tell us in the comments…
READ MORE:
Beach dubbed 'Maldives of Italy' with crystalline waters and white sand

Inside Albania's stunning Caribbean-like riviera with eight nights from £115

Inside Turkey's 'cave city' with hidden hotels, 'fairy chimneys' and hot air balloons

National park that inspired Avatar has 'floating' mountains and towering cliffs
Source: Read Full Article