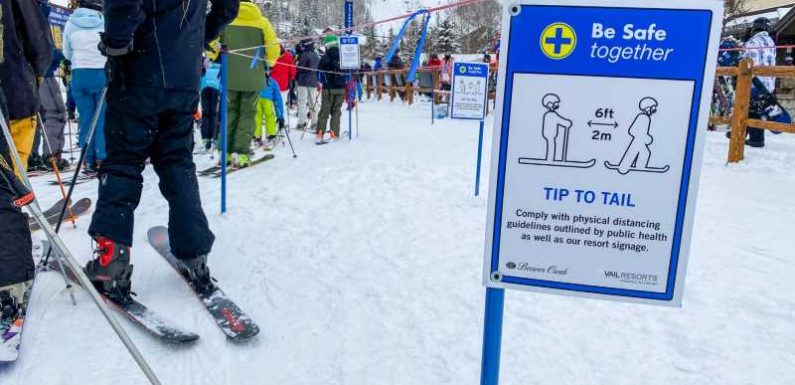 Load Error
After an abrupt mid-March end to last year's ski season as the pandemic first took hold in the U.S., no one really knew for sure what the 2020–2021 ski season would look like. Or if they are being really honest, most likely no one really knew if it would even work. To accommodate the uncertainty, most of the major ski passes had clauses and protections in case the ski resorts had to close again this season.
Despite skiing being an outdoors and pretty naturally distanced activity, several mountain towns across the world, including in the U.S., were actually coronavirus hot spots in March 2020. We now know this probably wasn't because of the actual time outside on the powder, but was more likely due more to the crowded, indoor, apres-ski activities and shared lodging. But leading up to operations for this winter, lots of changes were made in an effort to protect guests, employees — and the ski season itself.
With very few exceptions, here in the U.S., it worked.
On-mountain eating and drinking were moved more outdoors or required reservations. Lift lines and gondolas were distanced and capacity limited. Ski school, when it was offered at all, was outside-only and consisted of smaller classes. Advance lift or parking reservations were often required to prevent crowds and face masks became a mainstay. On top of that, those that took a ski trip often did so because they … actually wanted to ski or ride.
Get the latest points, miles and travel news by signing up for TPG's free daily newsletter.
Just like how I hope some of the pandemic-era precautions introduced at Disney World stick around for the long-haul, I  hope some of the adjustments that ski resorts made this year hang around long after this season's snow melts. Frankly, this year played host to one of our best ski trips ever.
While the additional outdoor tables, smaller ski school classes and less crowded lift lines were introduced under challenging times in the name of safety, these changes made for a much more enjoyable and manageable ski vacation. Here are the six changes I hope ski resorts keep going forward.
Smaller ski school classes
Big ski school classes for little kids are … frankly, a waste of time and money.
We've done it in years past just to give our kid(s) something to do while we skied, but learning was slow at best. At worst, it made skiing feel like a chore for littles before they even got a chance to learn. Once we tried a private instructor, our kids both shot out of the ski school magic carpet corral and onto legit runs within a day.
This year, even during the busy spring break week, our 5-year-old's ski school class on the day we didn't use a private instructor was just two kids. I think we lucked into getting that small of a class, but it would have been capped at three or four kids max anyway this year, depending on the location. Additionally, ski school wasn't all day this season — instead, you could book morning, afternoon or both sessions with a required midday lunch break.
While this isn't great for parents that had hoped to stay on the other side of the mountain all day, it's probably better for many little ones to have more half-day options. And smaller classes, even with a somewhat higher cost premium, are unquestionably better for parents, kids and instructors alike.
Outdoor dining and lunch reservations
Until this season, lunch on the mountain was often a hot mess on busy days.
Finding seats available at almost any ski lodge during the lunchtime hours was a double-black diamond challenge that usually involved having someone stalk for seats and then reserve them by awkwardly spreading out all available belongings while the rest of the crew snaked through the long cafeteria-style line for $22 chicken fingers and an $18 bowl of chili.
This year, indoor dining was completely closed for part of the season at some resorts. At other times, it was capacity-controlled to 25–50% and usually involved making advance dining reservations the morning-of skiing. This may sound annoying, but knowing you have a table for four waiting for you at 12:30 p.m. is pretty epic.
Additionally, you didn't have to do that at all. With more outdoor picnic tables, food trucks and grab-and-go items available at most ski resorts, you could easily skip the whole indoor lodge situation completely. Some mountains were even more creative. Telluride utilized grounded gondolas for folks to have some private, covered refuge for their lunch or breaks.
A private grounded gondola and a food truck is a 100% more enjoyable experience than navigating a crowded indoor ski cafeteria with all your gear.
Capacity-controlled mountains
In a recent letter to pass holders, Vail Resorts' CEO said that advance ski reservations likely won't be required next year. That means this next wish is unlikely to stick around, but hear me out anyway as there is some hope.
In previous years, lift lines could get pretty atrocious.
Waiting for 45-minutes to get on a lift is just not enjoyable, and that was our reality on some holiday breaks at popular ski resorts in other seasons. Those from out-of-state who are tied to a school calendar simply couldn't go on an off-peak Wednesday and ended up in nasty lines at times as a result.
While there were still full lines this year at peak holiday times, it was great knowing that the mountain wouldn't be overrun and that there would only be a certain number of skiers and boarders trying to upload at the same time. On our spring break ski trip to Beaver Creek, we never waited more than about 15 minutes for a lift, and often the wait was much shorter than that.
For its part, Arapahoe Basin has already announced that it will further restrict passes and lift ticket sales next year to the tune of 10% fewer unrestricted passes than it offered this season. It says it knows that keeping crowd size down is a key to a successful ski day, so perhaps there is hope of a less-crowded mountain going forward.
Related: Comparing the best annual ski passes 
More tech, fewer lines
Lift lines weren't the only waits that faced a pre-pandemic ski day. There were also often lines to get gear, purchase lift tickets, order food, register kids for ski school and more.
Now there are expanded rental gear delivery options, most ticket and pass sales are done in advance online and there are an increasing number of touchless ways to order and pay for your food and complete forms online.
For example, at the Aspen family of mountains, you can order and pay for your food in advance in the Aspen Snowmass app, much the way you now do at Disney World with mobile food ordering.
Skiing is about skiing
The final inclusion on this list is a bit less tangible but still very real.
Over the last decade, maybe longer, ski resorts started attracting a see-and-be-seen crowd. An after-ski drink and meal is unquestionably a highlight of the day when you can finally pull off those ski boots and chat about the day's runs, but replacing ski boots and bibs with anything other than comfy clothes after a day on the mountain isn't on my personal to-do list. There was an air of … pretentiousness that had wafted into some ski resort areas.
This year, those on and around the mountain seemed to largely be there for the skiing, the riding, the snow and the mountains. You may have changed into your ski clothes in your car with lodge-access restricted, packed your own lunch bag at home and traded the fancy evening dining indoors for an outdoor hot chocolate or margarita, but it was great.
The pandemic took so much from us.
But when it comes to skiing, it offered a bit of a reset. This season's back-to-basics approach and the appreciation for what we had — instead of what we didn't — was palpable on our annual trek to the mountains.
Bottom line
The quickly implemented tech upgrades and reservations systems, a re-examination at how many people should be on the mountain at once, an increase in easy lunch options, smaller ski school classes and a stripping back the true basics of what makes skiing special didn't just work to keep this ski season open — it actually made it better than before.
I can't wait for the pandemic to be firmly in our rearview mirror, but I hope some of the related adjustments to ski mountains are here to stay.
Featured image by Summer Hull/The Points Guy
SPONSORED: With states reopening, enjoying a meal from a restaurant no longer just means curbside pickup.
And when you do spend on dining, you should use a credit card that will maximize your rewards and potentially even score special discounts. Thanks to temporary card bonuses and changes due to coronavirus, you may even be able to score a meal at your favorite restaurant for free. 
These are the best credit cards for dining out, taking out, and ordering in to maximize every meal purchase.
—
Editorial Disclaimer: Opinions expressed here are the author's alone, not those of any bank, credit card issuer, airlines or hotel chain, and have not been reviewed, approved or otherwise endorsed by any of these entities.
Source: Read Full Article