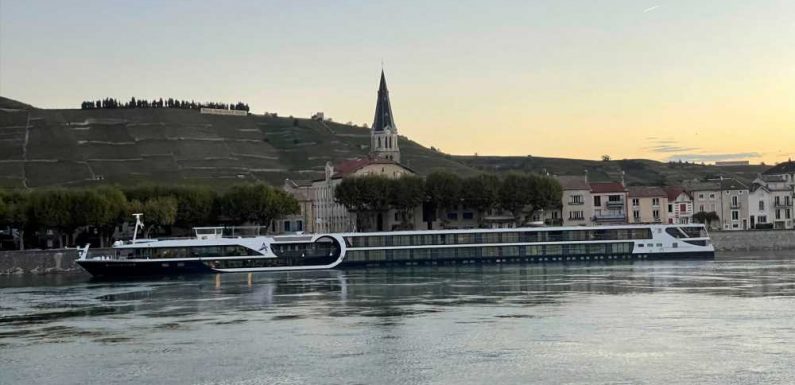 On our Avalon Waterways cruise on the Rhone, the laundering of cloth face masks is provided to guests free of charge. 
At first glance, it might seem like an inconsequential added service, but in a world changed by the Covid-19 pandemic, it's reassuring that travel companies are changing along with it — right down to making sure mandatory face coverings are fresh and clean.
I myself am a double masker, sporting a breathable cloth mask over my surgical mask when I fly (which I haven't found common in recent weeks). But it did give me the chance to test out the mask-washing process on the Avalon Poetry II. 
One lonely black cloth mask was dropped into the large paper laundry bag provided, labeled with my name and room number, and the following morning my stateroom attendant whisked it away. By the time I was back from my morning excursion, it was returned — in an equally oversized paper bag — cleaned and ready to wear. 
The use of cloth face masks is a bit in flux throughout Europe. We're in France, where a mask — of any kind — is required indoors and on transportation like tourist coaches. But transiting from Newark to Munich airport on our way to Lyon meant only medical-grade face masks were allowed on the plane — a requirement of the German government. 
"Medical" indicates the standard blue surgical masks or an at-times elusive N95. Passengers in Newark were told they would not be allowed to board the plane without this type of face covering and were directed to nearby vending machines. Fellow travelers heading to Munich from Toronto were provided surgical masks if their mask did not meet the standard of the gate agent — the whole process being very Canadian, without hassle or charge.
On our recent AmaWaterways cruise through Germany, masks were required in all public areas of the ship, and while the medical-grade mandate was in place, it wasn't enforced as long as one's nose and mouth were out of sight.
Colorful cloth masks abounded. On Avalon, masks (of any kind) are only required to be worn by guests around the food at the buffets.
Is a hand-laundered face mask as exciting or impressive as an iron-pressed newspaper or breakfast in bed? Due to the nature of the thing, probably not. But it heralds a willingness of river cruise lines to adapt to the times and add new levels of service.
On Avalon, that stretches beyond mask-washing to encompass Covid testing at the end of the voyage, along with copious hand sanitizer among other considerations. 
If cruising in a "new normal" means masks, you can rest assured that at least on a vacation with Avalon, guests won't be spending their time washing them in the bathroom sink.
Source: Read Full Article