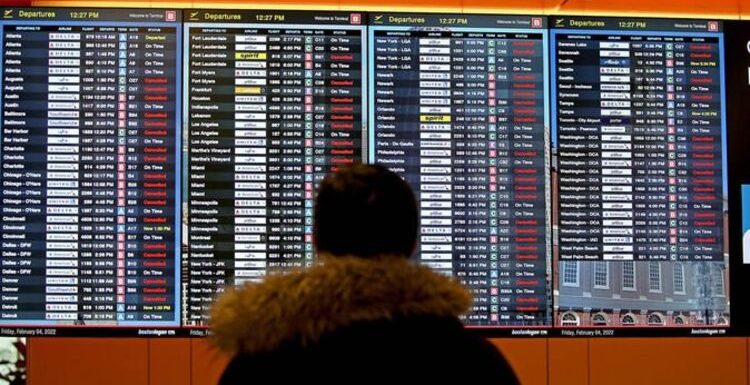 Storm Eunice: Met Office warns of 'danger to life'
We use your sign-up to provide content in ways you've consented to and to improve our understanding of you. This may include adverts from us and 3rd parties based on our understanding. You can unsubscribe at any time. More info
Parts of England and Wales near the coast are being advised to stay at home as extreme gusts of winds cause danger to life and property this morning. Those living in amber areas (most of England) should also consider cancelling their travel plans in line with the weather forecast, but there are no set rules against going out. Storm Eunice could be "one of the most impactful storms to affect southern and central parts of the UK for a few years," according to the Met Office, so it's something to take seriously. Brits have been told to be careful when driving and some rail lines have asked travellers to stay at home… but what about flying?
All trains will be cancelled today in Wales ahead of Storm Eunice and train lines in England have asked people not to use the trains where possible.
If you do try to get a train, you'll probably find that lots of services have been suspended, altered, cancelled or delayed.
This is because the Met Office is advising people to stay indoors and avoid travel where possible due to the risk to life being outdoors in extreme winds and other conditions.
The same applies to driving and other modes of public transport, but what do you do if you've got a flight booked out of the UK?
Heathrow, Gatwick, Stanstead, Manchester, Birmingham and other airports have all announced their own guidance about what to do if you're meant to be flying today.
The main advice is to check your flights online before travelling, as no blanket cancellations have been made and there is no one set rule about flying in a storm.
A tweet from Gatwick Airport's official account reads: "Weather Warning. Be advised that due to storm #Eunice, there is the possibility for disruption to flights, and the shuttle service to North terminal tomorrow, between approximately 10am and 4pm. Please arrive earlier if you are flying from Gatwick."
East Midlands Airport has also said: "Due to potential disruption caused by #StormEunice tomorrow, passengers are advised to check with their airline for the most up-to-date flight information. We also advise allowing plenty of time for your journey to the airport, as road and rail networks may be affected."
Get the latest three-day weather forecast where you live. Find out by adding your postcode or visit InYourArea
You can check the latest information and departures status for your nearest airport:
Gatwick airport latest departures
Heathrow Airport latest departures
Luton airport latest departures
Stanstead airport latest departures
Edinburgh airport latest departures
Newcastle airport latest departures
Liverpool airport latest departures
Manchester airport latest departures
The reason why it's so hard to say if your flight will be cancelled or not is due to the unpredictability of the storm and the fact that every aircraft has different limits.
It will be up to individual crews to decide whether a flight will be cancelled or not and that's why it's important to keep your eyes peeled for more information and updated departure statuses online.
It's worth mentioning that Storm Dennis in 2020 was the same speed that Storm Eunice is predicted to be and hundreds of flights were cancelled, so it is likely that your flight will be too.
The UK Civil Aviation Authority has updated its advice on what to do if your flights have been delayed or cancelled.
Essentially, the authority says that your airline has a duty of care and if your flight is delayed overnight they must offer you hotel accommodation.
If your flight is delayed for more than two hours, you must be provided with food and drink.
It's important to note that if you have been delayed for more than five hours and no longer wish to travel then you are entitled to a refund.
Source: Read Full Article