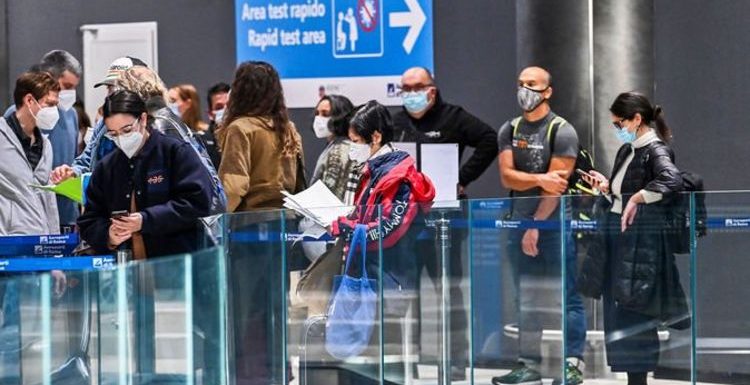 NHS Covid App reported down by users across the UK
We use your sign-up to provide content in ways you've consented to and to improve our understanding of you. This may include adverts from us and 3rd parties based on our understanding. You can unsubscribe at any time. More info
The NHS announced: "There are currently issues with accessing the Covid Pass on the NHS App and website. We are investigating the issue and will update as soon as we can."
This sparked fury amongst holidaymakers who couldn't board planes or enter tourist attractions in their holiday destinations
Henry Martin explained on social media: "This has been an absolute nightmare!
"We're stuck here in Greece as they wouldn't let us on plane without a pass.
"Are you going to reimburse us for the missed flights and hotel?
"Of course there was NO ONE we could contact about this also."
Another traveller named Michael Connor shared his frustration on Twitter: "Not good.
"Flying in the morning.
"Need pass. Stressful."
DON'T MISS
The best seaside town in Wales has been named – 'little gem' [COMMENT]
European countries that need a health passport [INSIGHT]
Portugal- UK Government updates travel advice [UPDATE]
Callum Melia shared on social media he couldn't enter any tourist attractions he had already booked and paid for.
"Cheers guys, can't do anything in Naples right now.
"Such as tours, museums, go for a piss because the app is broken," he explained.
Another social media user, Chuck Adolfy, said: "Cheers guys missed my flight with it!"
To which another user replied: "It's a shame you missed the flight.
"But never rely on the app to be working properly.
"Especially when you are travelling.
"You could have requested the COVID pass to be sent out in the post.
"That can be used for travel purposes," he suggested.
However, many didn't seem to be able to get a paper version.
Joel Harniman explained: "I can't even get a paper version as the NHS doesn't seem to think I exist so could always be worse.."
At the time of writing, the issue has already been fixed but many Britons are currently stuck in their holiday destinations.
Source: Read Full Article