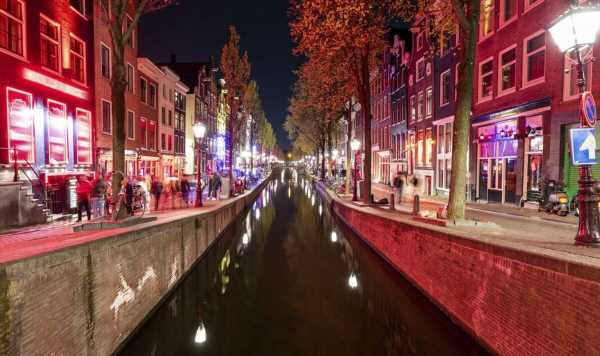 The Netherlands is continuing to drive out British tourists, according to The Times.
Back in 2019, the country stopped promoting to tourists and encouraging them to visit.
This year the country's capital, Amsterdam, took the next step by launching a "digital discouragement campaign".
The aim was to warn young British sex and drug tourists to "stay away" from the popular city.
A cap has been put on flights landing at Amsterdam Airport Schiphol.
READ MORE: 'I got scammed in Spain – but you can avoid my rookie mistake'
This decision was made partly for environmental reasons but partly to improve the lives of people living near the airport, the publication claimed.
And the Netherlands' efforts appear to be working, with new data revealing that arrivals from Britain into the Netherlands this year are down by 22 percent compared with 2019.
Out of the top 20 tourism destinations, the Netherlands ranks at the bottom in terms of bounce-back after Covid. Global tourist arrivals decreased by a whopping 26 percent, according to ForwardKeys, which analysed travel booking data.
Don't miss…
Meghan Markle shares her top tip for flying, having 'travelled so often'[INSIGHT]
'Never' check in a bag again with simple hand luggage hack[HACK]
Flight attendant shares how to use shower caps to prevent suitcase nightmare[INSIDER]
Advert-free experience without interruptions.
Rocket-fast speedy loading pages.
Exclusive & Unlimited access to all our content.
Olivier Ponti, the vice president of insights at ForwardKeys, stated: "The Netherlands has put a cap on air connectivity. That is obviously a hurdle and they have launched demarketing campaigns telling people to stay at home.
"Then there's the flight cap, which is designed to help the wellbeing of residents and the environment. If your idea is to reduce inbound traffic, the most effective way is to limit the number of flights."
When the Netherlands made the decision to stop promoting tourism, it also began diverting tourists to lesser-known destinations including Eindhoven and the Frisian lakes.
The decision was made partly due to incidents where Keukenhof tulip garden and Kinderdijk windmill district were blocked off due to traffic chaos, not to mention drunken British tourists dominating the streets.
Tourists to the Netherlands were also reportedly spotted urinating in public, fighting outside in the streets and vomiting into the picturesque canals.
Flights are likely to be capped at 452,500 per year (9.5 percent below 2019) according to Mark Harbers, the Dutch transport minister.
But not everyone is happy with the decision to reduce flights coming into the formerly touristic country. Ourania Georgoutsakou, managing director of the industry group Airlines For Europe, said the decision to cap flights was "arbitrary, ill thought out and undercuts procedures normally used".
Harbers said that aviation can bring the Netherlands "a lot that's good", as long as the negative effects for residents are paid attention to.
Source: Read Full Article