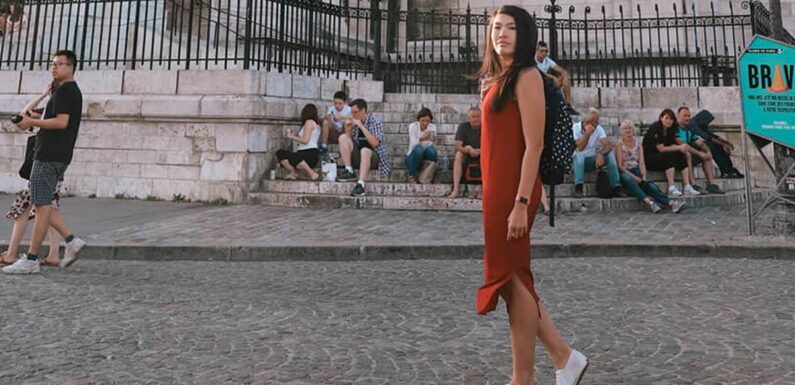 I was scammed at the airport in Paris by a fake taxi driver and charged £312 for a trip to the city centre – and I'm not the only one
Melissa Hie said she was overcharged by a fake taxi at Charles De Gaulle airport

The unauthorised driver tried to charge her €360 for a ride to Paris city centre

READ MORE: Female solo traveller reveals why she'd never go back to Athens
A seasoned travel blogger who was charged six times the going rate for a taxi ride from Paris's Charles De Gaulle Airport (CDG) to the city centre has warned against illegitimate taxi scams operating from the area. 
Melissa Hie, known online as girleatworld.net, recently blogged about an 'intimidating' situation she found herself in with a fake Parisian taxi driver who quoted €360 (£312/$387) for a ride. 
After refusing to pay the obscene amount, she said the driver became 'aggressive' and followed her into her hotel – only backing down when she paid him €80 (£69/$85).
CDG airport explains that official taxi rides are capped at €53 (£45/$55) for drop-offs on the right bank of the Seine and €58 (£50/$62) for the left side of the river. 
However, many unsuspecting tourists have been stung by unauthorised operators and some have taken to social media urging followers not to fall for the trick.  
Travel blogger Melissa Hie (pictured in Paris) was nearly charged €360 (£312.29) for a taxi ride from Paris's Charles De Gaulle Airport (CDG) to the city centre. She said the 'aggressive' taxi driver followed her into her hotel when she refused to pay
Melissa (pictured left in Jordan and right in Taipei) had visited over 30 countries when she was scammed in Paris. She fell into a 'verbal altercation' with the taxi driver and eventually paid €80 (£69)
THE SCAM-FREE WAY TO GET TO PARIS FROM CHARLES DE GAULLE AIRPORT 
Train: The RER B train runs every 10-15 mins between the airport and the city centre. Price: €11.45 (£9.91/$12).
Bus: The RoissyBus shuttle takes approximately 60 mins to reach Paris-Opéra. Price: €16.20 (£14.03/$17.43).
Taxi: Official taxis – which have white signs on their roofs – are located in ranks outside the terminals. A cab to Paris's 'left bank' are capped at €58 (£50/$62) and €53 (£45/$55) for the 'right bank'.
Official Paris taxis with their white signs
Another very reliable taxi service in Paris comes courtesy of G7 – visit www.g7.fr/en.
Car: Tourists can book a rental car from CDG airport, with desks for these situated in each terminal.
Source: Paris Aéroport
Speaking to MailOnline Travel, Melissa explained that her experience took place in June 2018 after landing in Paris alone on a flight from Singapore, which she'd visited for business. 
The experienced traveller, who had visited over 30 countries when she was scammed, said: 'A man with a CDG airport lanyard greeted me at the line and asked me where I was going. Then he told me that this line was only for taxis going out of the city and that I should go for the taxis at Gate 16.'
Once she got to the gate, she said she was immediately greeted by another driver who put her luggage into the boot of the car.  
After leaving the airport, although the taxi driver had shown her a badge and a meter phone app, she realised 'things felt off'.
She noticed that there was not a meter displayed in the car – and concluded that the badge and phone app were fake.
She said: 'My instincts were firing off at this moment, but there was nothing I could do.'
When arriving at her hotel, Melissa said the driver showed her the 'fake meter phone app', which said the trip cost €360 (£312), but said she 'fought back' against the unfair price.  
At that point, Melissa said the scammer 'immediately changed his tone' and became 'aggressive and rude'. She explained the driver then lowered the price to €200 (£173/$214) but tried to 'intimidate' her into paying it. 
She said: 'I told him I was calling the police, somehow got my luggage out from the boot, and ran with it to my hotel. He followed me, screaming and cursing that I was a thief and that I owed him money.'
Melissa explained that she was in a public area and felt 'safe enough' to refute the cost. However, after the verbal altercation, the €80 (£69/$85) she paid him was nearly €30 ($32/£25) above the going rate. 
Following her experience, Melissa shared advice for fellow travellers to help them avoid being preyed upon by unscrupulous operators. 
A 'red flag' she highlighted was that the taxi she got into 'did not look like [an official] taxi', but resembled an Uber or premium ride-sharing car.
She added: 'I think that the minute you realise you've been caught in a scam, the best course of action would be to stay calm. Observe the situation and if you are not in a public space, try to get yourself to an area where there are a lot of other people. I think this is key to being able to take some control of the situation.
'In my story, I described how I fought back and negotiated with the scammer. But I would say, though, that if I ever felt that I was in an unsafe situation where I could be physically harmed, I would not have fought as much. All things considered, I was lucky that I was able to escape to a public space with lots of people nearby.
'Lastly, do not blame yourself for falling victim! They are the scammers, not you. And don't let the incident ruin your trip. Paris is still a beautiful city with tons of interesting things to see and great food.'
Another traveller who has shared advice on avoiding taxi scams at CDG is TikToker Jamie Nyqvist. 
In a video titled 'How NOT to get scammed by an airport taxi in Paris', she explained that her friend was charged over €100 (£86/$107) from CDG airport to Paris. 
The Parisian-based content creator said this was 'impossible' due to the airport's fixed taxi rates, urging her followers to look for a 'clear sign' indicating where the taxi stands are. 
Echoing Melissa's advice, she told her followers to check that the taxi has a meter and warned them not follow drivers attempting to bring them to their taxi. 
In addition, Allie Goodbun urged her 219,900 followers not to be fooled by the scam, claiming: 'This scam gets everybody at least once.' 
She explained that 'average looking guys' will usually stand at the arrivals gate near the taxi line and offer taxi rides to tourists, but she warned: 'You do not say yes to this taxi offer.'
She continued: 'These guys are standing here because they know tourists are confused and they have no idea where they're going.
'The only way you should be getting a taxi at the airport is by finding the city taxi line.'  
Groupe ADP, which runs CDG, told MailOnline: 'The police intervene several times a week to combat illegal cabs, and Paris Aéroport staff are trained to report any illegal solicitations. 
'We are particularly vigilant in informing passengers to choose a cab with the taxi light signal and we do our utmost to accompany passengers as far as possible until they leave the airport, with campaigns to raise awareness of taxi scams.
'The prices of official Parisian cabs are displayed in the baggage claim area, and signs in the air, at eye level and on the ground show passengers the location of taxi stands: there is one per terminal, and cabs are obliged to pass through to take customers in the order of arrival. For their own safety, we therefore ask all our passengers not to accept fares outside the taxi stand queue at their terminal.'
Source: Read Full Article