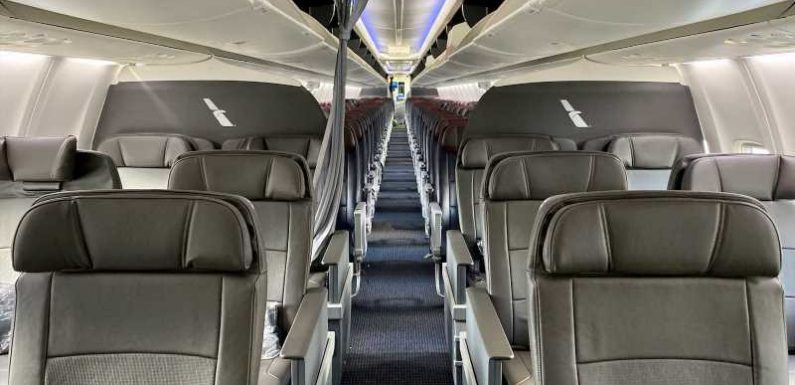 Load Error
As air travel continues to rebound, airlines are slowly returning to pre-pandemic levels of service.
The latest update comes from Fort Worth-based American Airlines, which is bringing back its beverage and buy-on-board snack program this summer.
Stay up-to-date on airline and aviation news by signing up for our brand-new aviation newsletter.
It all starts on May 1, when the full complimentary beverage service resumes in domestic premium cabins on all flights. This includes alcohol, canned drinks, juice and water, as well as hot beverages, like tea and coffee. Throughout the pandemic, AA has been serving drinks on request for all first-class flyers on routes shorter than 2,200 miles.
This move complements American's recent announcement that it'll upgrade its nosh in premium cabins. On April 14, American expanded its "Fresh Bites" offering for first-class passengers on domestic flights over 2,200 miles — mostly cross-country routes. These options include fresh fruit, yogurt and breakfast sandwiches in the morning and sandwiches, salads and fresh appetizers for lunch and dinner.
American also is showing some love for those seated in the back.
On June 1, all domestic coach passengers on flights longer than 250 miles can once again enjoy a complimentary drink, including canned sodas, juices, bottled water, tea and coffee. (Until then, drink service in economy will only be provided on flights longer than 2,200 miles.)
The buy-on-board menu, featuring alcoholic beverages and light fare like sandwiches, wraps and breakfast platters, will return later this summer, at a yet unspecified date.
"American's reintroduction of beverage service is a careful and informed process to ensure everyone on board feels safe and comfortable," said Brady Byrnes, vice president of flight service. "When customers fly with American, they are trusting us with their safety. This is why our ongoing partnerships with the APFA and medical experts are critical in ensuring the timing is right and customers have peace of mind."
Resuming a more substantial inflight offering comes as American's Big 3 competitors, Delta and United, recently announced similar moves.
Related: Here's what food and drinks you can expect on your next flight
Delta began offering a new snack and beverage service on domestic and select short-haul international flights on April 14, including canned cocktails provided by TIp Top Proper Cocktails. The Atlanta-based carrier will expand its premium-cabin service early this summer.
United is improving its coach offerings. The carrier recently unveiled redesigned snack boxes along with a revamped buy-on-board service, which will begin rolling out to Hawaii routes on April 1.
Of course, the one downside to expanded inflight service means less time that passengers are wearing masks. Nevertheless, with all adults in the U.S. now eligible for a vaccine, hopefully, the virus will be well under control by the summer.
Featured photo by Zach Griff/The Points Guy
SPONSORED: With states reopening, enjoying a meal from a restaurant no longer just means curbside pickup.
And when you do spend on dining, you should use a credit card that will maximize your rewards and potentially even score special discounts. Thanks to temporary card bonuses and changes due to coronavirus, you may even be able to score a meal at your favorite restaurant for free. 
These are the best credit cards for dining out, taking out, and ordering in to maximize every meal purchase.
—
Editorial Disclaimer: Opinions expressed here are the author's alone, not those of any bank, credit card issuer, airlines or hotel chain, and have not been reviewed, approved or otherwise endorsed by any of these entities.
Source: Read Full Article