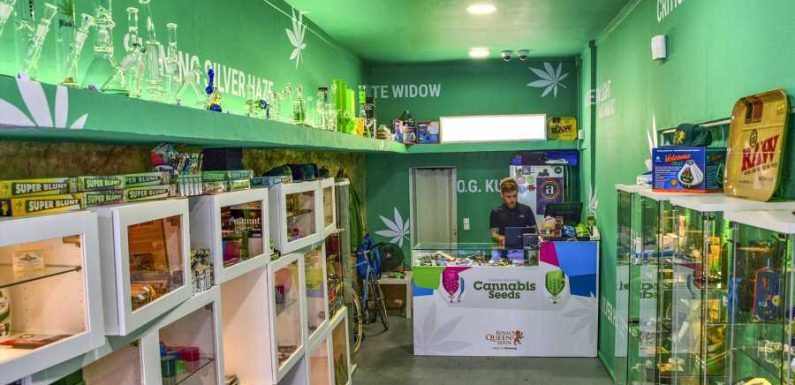 Amsterdam's new plan to ban foreigners from its famous cannabis cafes could make Barcelona the new marijuana tourism hub of Europe, with weed clubs now legal in that Spanish city. The mayor of Amsterdam, Femke Halsema, announced that, within the next year, the city plans to change its laws so only Dutch residents can visit its more than 150 cannabis cafes.
This move could push Europe's huge marijuana tourism market towards Barcelona, which legalized the drug in 2017 but has so far kept its cannabis cafe scene low key, compared to Amsterdam's "Weed Disneyland" approach. As one of the few countries where recreational cannabis use is legal, the Netherlands has long been the mecca of marijuana tourism, with Amsterdam its hub.
In 1976, the Netherlands made the sale and use of marijuana legal inside cannabis cafes. Since then, getting high in one of these shops has been a unique rite of passage for many tourists to Amsterdam, both young and old.
Many tourists are enchanted not only by the freedom of smoking marijuana openly in public but also by the extraordinary range of different cannabis strains sold by these cafes. This allure is particularly strong for tourists from countries, like my homeland Australia, where recreational marijuana use is illegal.
The wide availability of cannabis in the Netherlands could create the false impression that Dutch people are very laidback. The reality is that, while a welcoming and lovely people, the Dutch do not suffer fools.
Here's the thing, though: the Dutch public tends not to be huge fans of weed. In fact, studies show marijuana use is no higher in the Netherlands than in most other of Europe. As a teenager, Amsterdam seemed to me like a wonderland, so when I met my friend's two Dutch cousins I immediately grilled them about the city's smoky delights. "Dutch people don't really smoke weed that much, it's just not a big deal to us," was the gist of their reply, which left me in shock.
I've since had this confirmed many times by Dutch people I've met across the world, as well as by many articles I've read about Dutch attitudes towards drugs. Because marijuana has long been legal in the Netherlands it has no mystique to the locals. They're mostly happy for cannabis to remain legal but, according to many surveys of Dutch citizens in recent years, are not fond of the type of tourism it attracts.
On my most recent visit to Amsterdam, two years ago, I witnessed a Dutch restaurant worker rebuke a group of young English men who were smoking joints outside his business. "Go back inside the coffee shops," the man told them sternly, referring to the fact cannabis is only meant to be smoked inside these cafes or in private residences.
The wide availability of cannabis in the Netherlands does not mean that it's always widely accepted that tourists travel here specifically for the purpose of indulging in it.
Amsterdam mayor Halsema told the media this month that the city's legal marijuana market was now too large. Amderstam no longer wanted to be a magnet for cannabis tourism, and instead aimed to attract travelers interested in Amsterdam's "richness, its beauty, and its cultural institutions."
Halsema said research had found that, for almost 60% of tourists to Amsterdam, smoking cannabis was their chief reason for visiting. The number of marijuana cafes in Amsterdam would be cut in half if the foreigner ban came into effect, she said.
Barcelona may not want to take Amsterdam's place as the cannabis tourism capital of Europe. But hundreds of thousands, if not millions of tourists fond of marijuana arrive in Europe every year, at least outside of pandemic times. So if Amsterdam gives them the cold shoulder, they may look elsewhere. Barcelona is the obvious alternative.
It is not widely known outside of Europe, but recreational cannabis use is now legal in the Spanish region of Catalonia, of which Barcelona is the capital city. Private cannabis clubs have exploded across Catalonia, with more than 100 now open in Barcelona alone.
Shortly after Catalonia legalized the private use of cannabis in 2017, I visited a number of these members-only clubs, all of which were hiding in plain sight behind unmarked entries. I found them via Google Maps, knocked on their door, and identified myself as a journalist. Several of the clubs turned me away, and three let me inside.
Two of those three clubs allowed me to look around but asked that I not take photos or publish their name. They did not want or need publicity. The third venue, called Remedy Barcelona, was happy for the exposure, although it appears this club has since closed down.
What was noticeable about the three Barcelona cannabis clubs I visited was that they had a much different feel to the Amsterdam weed cafes. Unlike the Dutch shops, where people can just wander in off the street and buy cannabis, to purchase marijuana in the Barcelona clubs you must first produce personal identification and then sign up for a membership card.
Whereas Amsterdam's cafes often have a lively atmosphere, due to the presence of excited tourists and groups of rowdy foreigners on bachelor or bachelorette trips, the Barcelona clubs were very chilled out. Among the customers smoking joints in these dimly-lit clubs, I heard few non-Spanish voices. That's because, at that stage, foreigners hadn't yet begun to flock to Barcelona's cannabis clubs.
As these cannabis laws were still new at the time, the staff at the three clubs I visited told me they weren't accepting non-Spanish members. But that is no longer the case, with many Barcelona clubs offering membership to tourists. Similar to in the Netherlands, smoking cannabis in Catalonia is legal only in private residences or inside cannabis clubs.
While the coronavirus pandemic has seen tourism to Barcelona plummet, once vaccines take effect this year and international travel ramps back up, this Spanish city will again be inundated with visitors. And many of these foreign tourists may well have cannabis on their minds. Amsterdam's plan to ban foreigners from its cannabis cafés looks certain to push these weed-happy tourists towards Barcelona.
Source: Read Full Article