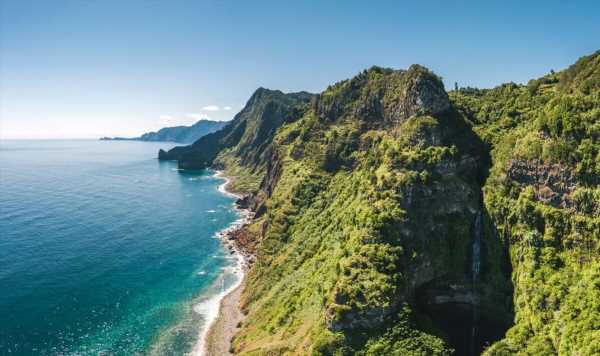 We use your sign-up to provide content in ways you've consented to and to improve our understanding of you. This may include adverts from us and 3rd parties based on our understanding. You can unsubscribe at any time. More info
Portugal is a leading destination for British tourists and is one of Western Europe's cheapest countries. One of the country's islands has been described as "absolutely breathtaking".
Closer to Africa than it is to Europe, Madeira is one of Portugal's most incredible holiday destinations.
Known as Europe's answer to Hawaii, the gorgeous island's tropical feel could make tourists believe they've crossed the Atlantic.
However, the beautiful island is just under four hours away and Britons won't experience any jet lag as it's the same time.
Forbes named Madeira one of its Best Places to Travel in 2023 and it's not hard to see why the Portuguese hotspot made the list.
Monte Palace Madeira is the island's top rated attraction on Tripadvisor and is home to a huge exotic plant collection.
The Palace has an interesting history and was once owned by the English Consul and also served as a hotel.
A visitor wrote: "The gardens are well laid out lots to see even if you're not really a plant lover like me."
Another person said: "Great gardens, with something for all the family. The building and history are also lovely and the views are amazing."
Madeira is a perfect destination for hikers with plenty of peaks which take tourists above the clouds.
Pico do Arieiro is one of the island's most popular peaks and on a clear day tourists will be able to see all the way to the neighbouring island, Porto Santo.
A tourist wrote on Tripadvisor: "Absolutely breathtaking scenery. Amazing views. Worth every second of our time."
Another said: "Unbelievable panoramic views. Best to visit in the morning as clouds roll in later."
Madeira is an ideal winter sun destination as the temperature is nearly always mild whatever the season.
The island's sea temperature is usually a mild 19 degrees meaning tourists can even take a dip in January.
Madeira's weeklong carnival, which ends on Shrove Tuesday, is legendary and one of Europe's best parties.
Tourists can watch a colourful float parade, admire street entertainers or head to one of the nightclub's themed parties to enjoy the event.
Foodies will want to try one of Madeira's typical dishes and can't leave without tasting bolo do caco, the island's traditional bread.
Tourists could also grab a prego sandwich, served on bolo de caco and filled with beef steak and garlic butter.
Direct flights to Madeira are available from several UK airports with prices under £50 currently for journeys from London in February.
Portugal uses the euro and Britons will need to get their passport stamped on entry and exit from Madeira.
Source: Read Full Article