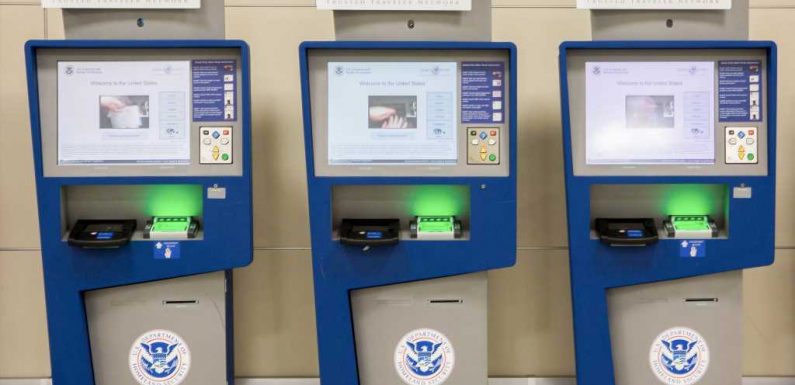 By now, you probably know all about Global Entry and TSA PreCheck, two options under the Department of Homeland Security's Trusted Traveler Program, that can make getting through the airport easier. While many travelers try to choose one or the other, there are a few reasons to choose Global Entry: The Global Entry program, which expedites re-entry into the U.S. after international trips, is a godsend at the tail end of long-haul flights. Another reason to go Global Entry, though, is that the application fee currently includes TSA PreCheck—and, for now, is only $15 more than PreCheck alone (though that could go up to $35 with a proposed fee increase)—so you don't have to choose just one after all. 
Now that you've decided, here's everything you need to know to tackle the application process and interview. During COVID-19, that part of the program hit a few snags such as closed enrollment centers and approval backlogs. But Customs and Border Protection, the agency that runs Global Entry, has efforts underway to get it all back on track.
Here's our step-by-step guide to getting through the Global Entry application process, from the online forms to in-person interview, so that you can smoothly secure your status, and—when you're ready to fly again—sail through those airport lines.
Make sure you're eligible
Unfortunately, yes—you have to earn the government's trust to be part of this 'Known Traveler' program. Here's who can apply for Global Entry: U.S. citizens, U.S. permanent residents, and citizens of 19 foreign partner countries including Colombia, the United Kingdom, India, Qatar, Germany, Panama, Singapore, South Korea, Switzerland, and Mexico. (Depending on the country, visas may also be required for entry.)
Canadian citizens and residents are also eligible for Global Entry benefits through membership in the NEXUS partnership (the agreement that allows members expedited processing when entering the United States and Canada). However, because of the COVID-19 pandemic and the extended closure of the U.S.-Canada border to nonessential travel (until at least April 21, 2021), the Nexus program is still on hiatus, says CBP spokesperson Rhonda Lawson, and some travelers have reported waiting for more than a year for their applications to be approved. Only Americans can get the TSA PreCheck benefits, though. 
It's also possible to secure Global Entry for kids under the age of 18, but they must have parental or legal guardian consent to participate.
Your application may be denied if you have a criminal record; provide false or incomplete information on your application; have pending criminal charges; have violated customs, immigration, or agricultural laws in any country; are currently being investigated by any local, state, or federal agency; are inadmissible to the U.S. under immigration regulation, including applicants with approved waivers of inadmissibility or parole documentation; cannot satisfy CBP of your low-risk status; or fail to meet other program requirements. For questions about eligibility, contact the Global Entry Enrollment Center nearest you.
However, Lawson notes that if your application is denied, "you do have the option of requesting a reconsideration." (Luckily, you won't have to pay the fee again.)
Create an account online
All applicants, regardless of age, have to create an account within the Trusted Traveler Program Systems. This is where you can submit your online application, along with payment.
Understandably, the application is extensive: In addition to personal information—name, email address, gender, eye color, height, language preference—it requires you to fill in your employment, address history, and travel over the past five years.
It also asks if you've violated any customs or immigration laws, or if you have been convicted of a crime. Fill out the application and submit the $100 fee—which will likely increase to $120 when the CBP completes its review of public comment about the price increase (so take advantage of the lower rate while you can). Once approved, the fee will cover a five-year Global Entry membership—but note that the cost is non-refundable, even if your application is rejected.
You can pay the fee by credit card or electronic bank transfer. In addition, many travel credit cards offer reimbursement of the Global Entry application fee as a benefit.
Getting an interview appointment
At the height of the pandemic, the Global Entry program experienced a major backlog of applications because of closed enrollment centers and limited appointments, which caused months-long delays in processing new applications and approving renewals. However, the agency has now worked through most of those backlogs, and about 60 percent of applications are conditionally approved within 15 days, according to Lawson. Applications that require a more detailed review can take up to four months.
Once your application is conditionally approved, you'll receive an email that there's a message in your Trusted Traveler account. You'll then be asked to schedule an in-person interview at a Global Entry Enrollment Center, which can be found all over the country. With the lingering scheduling and backlog delays from the pandemic, it's difficult to estimate how long it will take to secure an interview, but you do have up to 730 days after your conditional approval to complete the enrollment process. If you're having trouble securing an interview slot, check back often—people sometimes cancel their appointments, opening up earlier slots.
Note that some of the least crowded enrollment centers are at airports. And with your conditional approval, you can also take advantage of U.S. Customs and Border Protection's Enrollment on Arrival program following an international trip. When you land in the United States, just follow the signs to CBP officers who will complete your interview.
Currently, 63 Enrollment on Arrival airports are in operation across the country; here's a full list. (There are also centers at six international locations, but availability might be affected by the pandemic.) 
Ace the interview
Pack a valid passport and another form of ID like a driver's license or ID card, and print the conditional approval letter from your Trusted Traveler account. You'll also need documents that show proof of residency—think a utility bill or rental agreement. (Keep in mind that for Enrollment on Arrival interviews, you'll need to pack these documents before your trip.) Oh, and just a heads up: You'll be getting your photo taken at the interview, and this headshot will go on your Global Entry ID card.
The good news is that if you're conditionally approved, most of the hard work is over—you've already been pre-screened, and your information has been checked by the government. Many of the questions you'll be asked are ones you've already answered on your application, or ones officials already have the answers to, like: "Why do you want to join Global Entry? What do you do for a living? Where have you traveled in the past five years? Have you ever been arrested, or had an issue at U.S. Customs and Border Protection?" 
Still, take the questions seriously and answer them as you did on your application. It's almost time to celebrate, we know, but don't ruin everything with an ill-timed joke.
At the appointment—which should last anywhere from 10 to 15 minutes—you'll also have to provide your fingerprints and, as mentioned above, get your photo taken. Within a few minutes you'll be confirmed for Global Entry, and will be given a Known Traveler Number (KTN) that you can start using immediately to be eligible for TSA PreCheck. Lawson recommends taking a photo of your number with your phone so you always have it handy (like when booking a flight; you'll need to enter it so it appears on your ticket, clearing you for that coveted PreCheck line).
An official Global Entry card should arrive within two weeks, and you'll need to activate it within 30 days. You won't have to show this card at the airport, though, as it's only for land and sea ports of entry—at the airport, just stroll up to the Global Entry kiosks and get started. 
This article was last published in March 2019. It has been updated with new information.
Source: Read Full Article