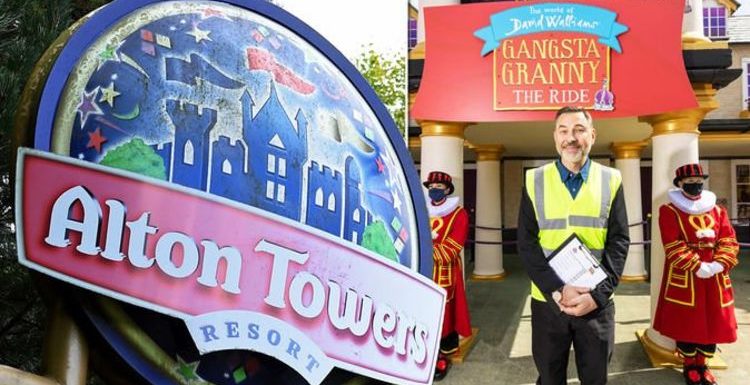 David Walliams unveils new 'Gangsta Granny' ride at Alton Towers
When you subscribe we will use the information you provide to send you these newsletters. Sometimes they'll include recommendations for other related newsletters or services we offer. Our Privacy Notice explains more about how we use your data, and your rights. You can unsubscribe at any time.
David Walliams attended the resort to give his seal of approval to Gangsta Granny: The Ride along with six schoolchildren who gave the ride a go. The ride is set to open on May 17.
The ride is a multi-sensory ride experience in which guests will join the main characters of the children's books as they attempt the greatest heist in the history of the world: to steal the Crown Jewels.
The exhilarating journey will see guests hop aboard a Royal Carriage as they set off on a remarkable tour of London's Crown Jewels only to be swept up in Ben and Granny's exhilarating escapade.
The ride will whizz, twist and spin through the sewers on a 360° special effect-laden, wild ride to break into the Crown Jewels vault.
Passengers will see, feel, hear and even smell an electrifying and unique re-telling of the Gangsta Granny story.
The comedian and Britain's Got Talent judge quality checked the ride personally
He ensured the Beefeaters' hats are at the perfect angle, the smell of cabbage soup permeates perfectly, and Raj's Shop contains the infamous Nick 'n' Mix.
He led the six schoolchildren onto the ride to be the world's official first riders of Gangsta Granny: The Ride.
DON'T MISS
UK holidays: Britons' 'interesting' new demand following April 12 [ANALYSIS]
EU accused of breaking own rules with vaccine passport plans [FURY]
Portugal & Greece holidays: PCR test shortage panic [TRAVEL]
David Walliams said: "It's an incredible feeling, I did feel very emotional.
"I did think 'wow, how has all this happened' because the book was written just over 10 years ago, and it's now famous enough to have its own ride at Alton Towers.
"I came here as a kid! So, it's pretty mind-blowing."
He went on: "I just loved going on the ride, and I can't wait to come back with my son and nephew because they are both under 10, I mean they both will absolutely freak out when they get to experience it."
The comedian has not only inspired a ride but a whole neighbourhood in the park.
The attraction lives in The World of David Walliams with bargains to be found in Raj's Shop, a host of Royal Guards brought to life on-site.
This includes the Royal Carousel where you can race on regal thoroughbreds.
Fans of the book will also enjoy Raj's Bottom Burp, which delivers a bumpy ride and much more.
Alton Towers has made some changes due to the coronavirus pandemic.
The theme park, located in Staffordshire, will reopen to the public on Saturday, June 6, but those hoping to ride some of its famous rollercoasters might have a little bit longer to wait.
Outdoor spaces will be opened to the public, notably the park's vast outdoor gardens, allowing people to take walks there throughout the day.
Food and drinks will also be available from the site's takeaway service.
Source: Read Full Article