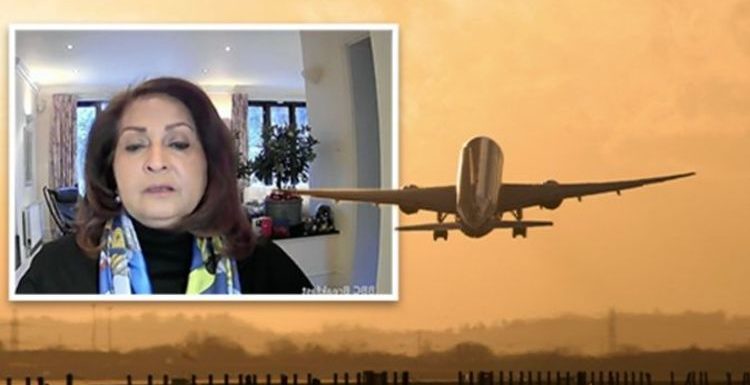 Holidays: Travel expert issues warning about industry
Flights and holidays have been in the firing line of lockdown regulations for almost one year now, as Government insiders impose draconian rules on citizens banning them from travelling both domestically and internationally. Though initially hopeful 2021 would see a boost for travel, now one industry insider has warned further job losses and "devastation" lies ahead.
Under the latest lockdown rules, holidays both in the UK and further afield are illegal.
What's more, countries around the world have shut their borders to British travellers due to concerns over a new strain of COVID-19 which was initially discovered on UK soil.
The result of these measures has dashed hopes of any immediate recovery for the industry, which is worth approximately £200 billion to the UK economy.
"Prior to the announcement, we were very hopeful that by summer things would move along quite readily and that by winter we would have seen at least a 50 percent recovery," Amrit Singh, managing director of Transindus told BBC Breakfast.
We will use your email address only for sending you newsletters. Please see our Privacy Notice for details of your data protection rights.
"By and large it seems that the chancellor has not recognised the fact that the travel industry is a significant employer or a significant contributor to the UK economy. We have not had any support."
Domestic tourism, airports and travel agent businesses help contribute roughly nine percent towards the economy.
What's more, prior to the pandemic, the sector provided around four million jobs.
Already 39,000 jobs have been lost and more workers remain on furlough.
"More will follow," warned BBC correspondent Nina Hossain.
DON'T MISS
Travel insurance firms under 'no legal obligation' to refund policies [COMMENT]
Package holidays: Thomas Cook, TUI and easyJet holidays cancel trips [UPDATE]
Spain flights: What documents do you need for Spain post-Brexit? [INSIGHT]
As pressure mounts following the latest lockdown, it is feared the fallout could be even higher without Government support.
"January is our peak season and this is when the bulk of our sales happen," continued Ms Singh.
"But the bulk of the industry that travels internationally has had no income."
The Government has announced £4.6 billion in new lockdown grants "to support businesses and protect jobs" in the UK.
This equals a one-off grant of up to £9,000 for businesses in the retail, hospitality and leisure sectors.
However, it is not clear how many jobs within the travel sector will be eligible for these grants.
All businesses must apply for the grant through their local authority.
The grants will be in the hands of local authorities, who will then distribute them.
Airlines and large travel firms, though, have not received Government "bailouts" in the UK.
Most recently, British Airways (BA), TUI, Virgin Atlantic and Jet2 have been the latest to amend and cancel itineraries as a result of the latest lockdown.
A BA spokesperson said the airline is "reviewing its flight schedule following the announcement of new national lockdown restrictions".
Virgin Atlantic has reviewed its upcoming package holiday schedule and is "cancelling all holidays up to and including 14 February 2021."
Jet2 is extending the "suspension of flights and holidays up to and including February 11, 2021."
Meanwhile, TUI is cancelling all holidays departing from England until mid-February, and all holidays departing from Scotland and Wales until January 31.
Source: Read Full Article