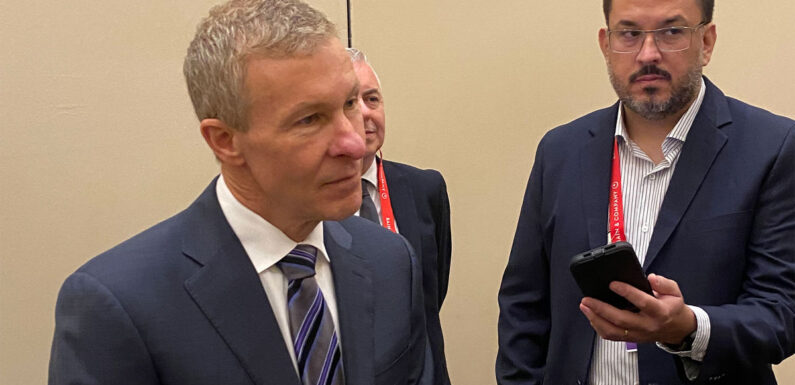 ISTANBUL — United Airlines CEO Scott Kirby would like to see all flights that serve the U.S. banned from flying over Russian airspace. 
"I worry when airlines are flying over Russia and they have American citizens onboard," Kirby told the media at the IATA's Annual General Meeting on Monday. "When planes fly over Russia, you use Russian airports as a place to divert airplanes. If there's a mechanical issue or a medical issue, you land in Russia. What's going to happen if an airline lands in Russia with some prominent U.S. citizens on board? That is a crisis in the making, and I think we should solve it before the crisis happens." 
Currently, the U.S. bans its own airlines from flying over Russian airspace, but the ban doesn't generally apply to foreign airlines that serve the U.S. 
Flying over Russia is especially an issue on flights to China and India, though it can be a smaller factor on other routes, including ones to portions of the Middle East. 
Between the U.S. and China, airlines from each country are currently limited to a combined total of 12 routes per week. Chinese carriers, for the most part, are allowed to fly over Russia, a situation that can save them more than two hours of flying, depending upon the route. However, on four new routes approved last month by the U.S. Department of Transportation, airlines appear to have been banned from Russian overflying, according to various media reports. 
For example, FlightRadar24 data shows Air China heading due east on its newly resumed route from Beijing to New York before making its usual arc north toward the Arctic, a routing that bypasses Russian airspace. 
Travel Weekly sought a request for comment from the DOT.  
Kirby said the overflying ban is especially impacting United's India service. The carrier was operating four India routes before Russia invaded Ukraine in February 2022. Now, United flies only between Newark and Delhi. 
Meanwhile, Air India, which is allowed to fly over Russia, is operating nine U.S. routes, one more than it offered in February 2022. The carrier added JFK-Mumbai service in February. 
Source: Read Full Article