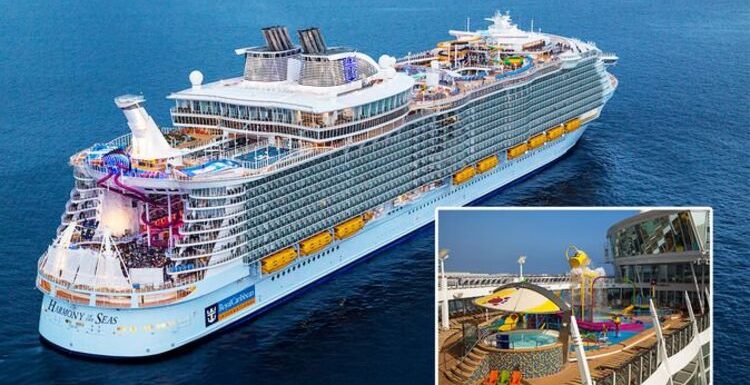 We use your sign-up to provide content in ways you've consented to and to improve our understanding of you. This may include adverts from us and 3rd parties based on our understanding. You can unsubscribe at any time. More info
With a $1billion-plus price tag, Harmony was Royal Caribbean's third Oasis class cruise ship, behind 2010's Allure of the Seas and 2009's original Oasis of the Seas. Symphony arrived in 2018 and Wonder makes its maiden voyage this March. But these 5,500-passenger Oasis class ships are only a fifth of Royal Caribbean's massive fleet, which includes the much smaller Vision class (2,446 passengers), Radiance class (2,501 passengers), Voyager class (3,114 passengers) – the first to feature ice rinks – and Freedom class (3,634 passengers). Next year the cruise line plans to introduce its new liquefied natural gas-powered Icon of the Seas, the first of three 5,600-passenger Icon class ships built with advanced environmental technologies and a game changer for the industry's big resort ships.
Covid protocols on Harmony of the Seas
Harmony will spend 2022 and at least until October 2023 sailing to the Caribbean from three Florida ports: Miami, Fort Lauderdale and Orlando, so it will be subject to American Covid rules.
As travel restrictions continue to lift it's hoped that onboard protocols will ease but all passengers over 12 must be fully vaccinated at least 14 days before sailing (as are crew) and that's not likely to change any time soon.
Pre-cruise Covid-19 PCR tests with negative results are still required no more than two days before sailing and unvaccinated children from 2 to 11 must have a negative test result no more than three days before sailing. Under-2s do not need tests.
Unvaccinated 2- to 11-year-olds will have additional complimentary tests during check-in and before disembarking.
There are different rules for other Royal Caribbean ships departing or disembarking from Puerto Rico and Barbados, but these should not affect Harmony of the Seas passengers unless itineraries change.
Masks are required at the terminal, in some public spaces inside the ship and may be required at some destinations, although under-2s don't need them and the company is easing mask wearing for fully vaccinated passengers.
Dining rooms will have areas designated for passengers traveling with unvaccinated children and My Time Dining is not available to these families or groups, with some speciality restaurants enforcing a similar rule.
Families and groups traveling with unvaccinated children must also book excursions through Royal Caribbean in order to go ashore, except at the cruise line's private destinations – CocoCay in the Bahamas and Labadee in Haiti.
Some ports require all guests to use Royal Caribbean excursions, regardless of their vaccination status, because of the health guidance in place.
Only vaccinated guests can use the theatre and some other activity venues. For instance the fitness centre will have some designated times for vaccinated guests only and although the spa is open to all, services in treatment rooms are for vaccinated guests only.
Future protocols are expected to include boosters and "lower vaccination ages", while cruises longer than five days may include onboard tests.
Of course, everything could change again depending on new variants and their effects.
What's it like onboard?
Be prepared for a busy week if you want to enjoy all the onboard facilities and entertainment.
Evening shows include a West End standard production of Grease and Columbus The Musical in the Royal Theatre, professional ice dancing at Studio B ice rink and the most fantastic Aqua Shows that involve high board diving and synchronized swimming in the show pool at the back of the ship.
During the day you can slide down 10 decks in The Ultimate Abyss, fly through air on the zipline nine decks above The Boardwalk – where there's a full-size hand-crafted carousel – have a go on one of the two flowrider surf simulators, cool off in the Perfect Storm water slides, take in views from the rock-climbing walls or practice your pirouettes in the ice rink.
Seadays can be spent lying around the pool – there's a main pool, beach pool and sports pool on deck 15 as well as Splashaway Bay for children and the pool deck also has organised games and live singers, so there's never a dull moment.
There's also a sports deck, table tennis, miniature golf and several kids' clubs for two year olds to teenagers.
Royal Caribbean ships are renowned for being family friendly and relaxed, with few dress requirements or formal evenings – although there are opportunities to dress up if you want and you can't go to dinner in your swimmers or shorts.
But there are quiet corners where you can get away from the frenzy: notably in Central Park, where there are real trees and plants, and in the adults-only glass-covered Solarium.
The WOW factor
The whole of the pool deck is extraordinary with something for everybody to enjoy, while the Grease musical is superb and the idea of an ice rink on a cruise ship is amazing.
But the one thing that will make everyone who sees it say "Wow!" is the virtually death-defying Aqua Theatre show with performers diving into the extra deep pool from a range of boards with the highest 55ft above deck – while the ship is moving.
The shows are madcap, energetic, colourful and playful dramas with glamorous synchronized swimmers – girls and boys – acrobats and dancers. It's fantastic.
Staterooms
Sixteen of the 18 decks have guest accommodation and there is room for 6,687 passengers in 2,747 staterooms in eight different styles.
Most are balconies although there are also outside cabins with large windows; nearly 500 are inside cabins of which 76 have virtual balconies with views digitally reproduced on one of the cabin walls.
There are also 15 studio staterooms for solo travelers, or people who don't want to share a room and 189 suites with three tiers of service.
The two deck-high Royal Loft Suite and Owner's Loft Suite are the grandest but there are a range of family suites, spa suites and Aqua Theatre suites – where you can watch the Aqua show from your balcony.
Royal Genies offer a butler and concierge service to the top suites but everybody is well looked after, including those in the regular staterooms.
All have a choice of twin beds or a queen-size bed, bathrooms with a shower and hairdryer, sitting area, TV with films and ship information plus 24-hour room service.
Dining
With more than 20 dining opportunities to choose from, you're not going to go home hungry.
There are three main dining rooms – American Icon, The Grand and Silk – all serving the same menu, with two that offer My Time Dining so you can select flexible dining times or stick to fixed dining times of 6pm and 8.30pm.
Even better for families is My Family Time Dining, which allows families to have children aged 3-11 picked up by children's club staff 40 minutes after the start of the early dining time so grown-ups can continue eating in peace.
The five-course dinners are waiter-served with plenty of options and American Icon also serves breakfast and lunch on sea days.
The complimentary buffet is Windjammer Marketplace on deck 16, open for breakfast, lunch, dinner and late-night snacks.
Complimentary cafes along deck 5's Royal Promenade including Sorrento's, where you can get pizza by the slice, Café Promenade for 24-hour light bites, while on deck 6 there's Boardwalk Dog House for hot dogs and Vitality Café near the spa.
The best of the smaller venues is Park Café in deck 8's Central Park, where you can eat breakfast or lunch inside or outside among the foliage, or you can get away from the crowds at The Solarium Bistro for free breakfast, lunch and dinner.
Then there are the paid-for options, with varying cover charges. Most expensive and exclusive is 150 Central Park, where the courses are paired with wines; cheapest is Johnny Rockets where the 1950s-style diner serves burgers and fries.
The most interesting is Wonderland, where the food is constructed using molecular gastronomy and nothing is what it appears to be, while the most straight-forward is Jamie's Italian with menus by Jamie Oliver.
All these come with cover charges from $6.95 to $89 per person, although most are around the $40 mark.
Lifestyle
This is your holiday and you're expected to relax, have fun and do whatever you want and wear just about whatever you want.
Daytime it's shorts and swimming costumes (although not in restaurants) and evening wear is casual-smart. Should there be a formal night you can stick to a suit or cocktail dress rather than going full black tie.
If you're not getting off the ship during the day you can laze around the pool, get involved with the sports options or treat yourself to a quiet day in the spa with a day pass to use the thermal suite.
There are cafes, pubs and bars in the Royal Arcade on deck 5, as well as duty free shopping and you're bound to catch a quiz somewhere.
Entertainment
Royal Caribbean ships have some of the best musical theatre at sea and Harmony is no exception, with Grease its blockbuster offering.
But as well as the big shows in the theatre, ice rink and aqua theatre there are small pleasures, such as sitting in the Rising Tide Bar with a glass of wine as it slowly ascends and descends between the Royal Promenade and Central Park on deck 7.
Pre-dinner drinks outside at The Trellis Bar in Central Park is a lovely way to start the evening and karaoke on the dance floor in Wonderland a good way to finish it.
Fact box
Five, six and seven-night Western Caribbean cruises depart regularly from Florida, with the shorter cruises going to Mexico and longer trips calling at the Bahamas, Jamaica and Haiti.
Seven-night Eastern Caribbean trips go to the Bahamas, St Thomas and St Maarten.
* Seven-night Eastern Caribbean & Perfect Day cruise departing October 2, 2022 from £467pp, two sharing, cruise only at royalcaribbean.com.
Source: Read Full Article