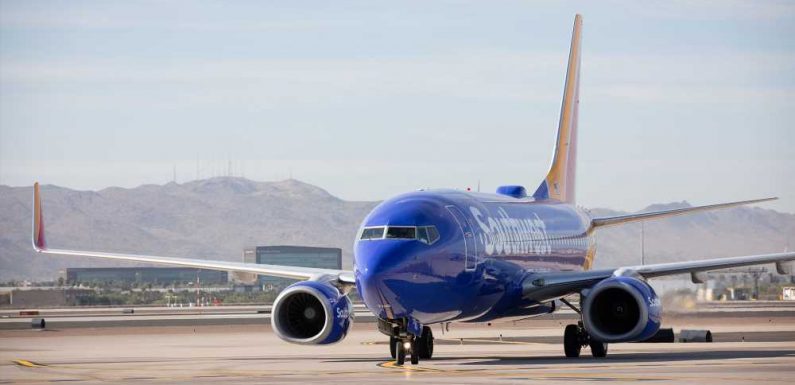 Southwest Airlines executives said Thursday that the carrier's operational performance is improving after a dismal June but still falling short of its own expectations. 
"It is not what we want," COO Mike Van de Ven said during Southwest's Q2 earnings call on Thursday.
Van de Ven said that so far in July, Southwest has recorded an on-time arrival performance of 67%. That's up from June, when the carrier was on time (defined by the DOT as arriving within 15 minutes of schedule) 63% of the time. 
But Southwest still trails its typical results. In July 2019, for instance, Southwest had an on-time percentage of 80.3%. That month the carrier cancelled 1.4% of flights, according to the DOT. This month, through July 16, Southwest had canceled approximately 3% of its flights, according to FlightAware.
This summer's spike in airline cancellations and delays is drawing scrutiny to the way carriers have managed staffing levels during the pandemic.  
Southwest executives placed some blame for the operational difficulties this summer on what CEO Gary Kelly described as surprisingly erratic, spring-like, wet weather. June operational numbers were also pulled down by a mid-month computer system problem that led to the cancellation of more than 1,000 flights over three days.
But executives said that a shortage of groundworkers continues to burden Southwest's operation. 
"There's just a lot of competition in that pool of potential employees," Kelly said.
In one effort to remedy the problem, Southwest announced in late June that it would increase its minimum wage for direct hires to $15 per hour. The carrier also contracts out much of its low-wage airport work. A Southwest spokesman said Thursday that some of those contractors are also facing staffing challenges.
Van de Ven said that Southwest is particularly struggling to hire ramp workers in six to eight of its largest markets. Airline president Tom Nealon cited Denver as one primary example. 
Van de Ven said that the shortage of airport workers isn't directly causing flight delays or cancellations. Typically, he said, when Southwest has a disruption in its point-to-point network, it will cancel a flight to get back on track and then re-accommodate customers on another flight. But that has proven harder to do this summer because the carrier isn't flying its usual number of frequencies on many routes. Instead, flights run later, which also leads to longer work days for crew. 
During the second quarter, Southwest's capacity was down 16.4% from 2019. The carrier expects third-quarter capacity to be comparable to 2019. 
Van de Ven said the rescheduling problem will be naturally solved as Southwest regrows its network and adds frequencies. Operational performance will improve again in August, he said, and he hopes it will reach its usual level by the end of September. 
Added Kelly: "I blame it on the pandemic. It's messy. It's messy coming in. It's certainly messy coming out."
Southwest reported Q2 net income of $348 million for the June quarter, boosted by $724 million in federal payroll support. 
The carrier is hopeful it will achieve positive net income for the third quarter excluding payroll support, CFO Tammy Romo said.
Southwest reported $4 billion in revenue in the second quarter, still down 32.2% from 2019 but nearly double the first quarter of 2021. The revenue performance beat investor expectations by $70 million, according to the investment website Seeking Alpha. 
Source: Read Full Article