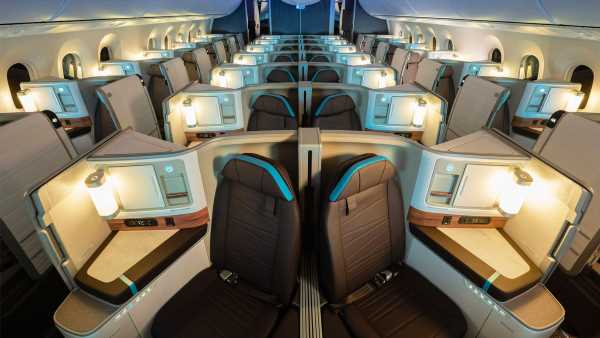 Hawaiian Airlines will make San Francisco and Los Angeles the first destinations for its Boeing 787 Dreamliner aircraft next spring.
The 787-9 planes will feature a new cabin interior, including business-class suites. 
Hawaiian will operate its first Dreamliner from April 15 through May 14 on its daily service between Honolulu and San Francisco. On May 14, Hawaiian will begin using the plane for select flights between Honolulu and Los Angeles.
Beginning May 15, the airline will also use the plane for select flights between Maui and Los Angeles. 
The Hawaiian 787s will have 300 seats in two cabins. Thirty-four of those seats, each with sliding privacy doors, will comprise the business-class cabin, which the airline has named Leihoku.
The remaining 266 seats will be in the economy cabin, including 79 with extra legroom. 
Hawaiian is expecting a dozen Dreamliner deliveries through 2027.
Source: Read Full Article