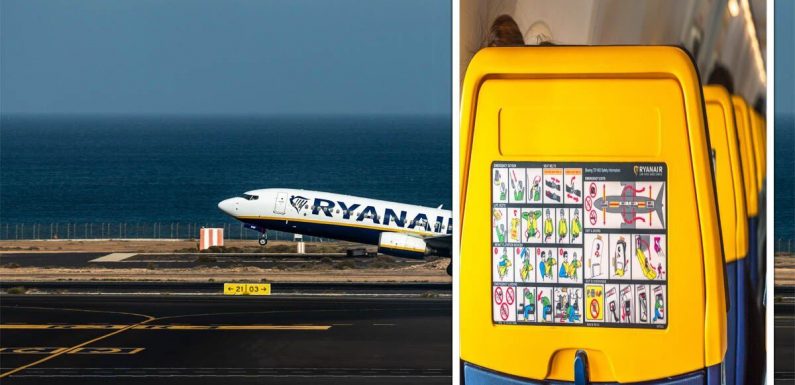 Simon Calder comments on planned Ryanair strike action
We use your sign-up to provide content in ways you've consented to and to improve our understanding of you. This may include adverts from us and 3rd parties based on our understanding. You can unsubscribe at any time. More info
Ryanair flight attendants will now warn passengers about their tech products. Passengers will be asked to alert crew immediately if their tech overheats.
During a Ryanair safety briefing, crew will normally tell passengers how to use oxygen masks and what to do if the flight has to make an emergency landing.
The team will now include a new warning for passengers concerning electronic devices on flights.
Cabin crew now say: "If your device or its battery is damaged, hot, produces smoke, is lost or falls into the seat structure then please inform the cabin crew immediately."
The new message is very important for flight safety and every passenger should check their device on a flight.
Every personal electronic device is powered by rechargeable lithium-ion batteries so there are hundreds on every flight.
Laptops, mobile phones and iPads all use the batteries and many people bring multiple devices on holiday.
However, nowadays many people buy cheap batteries and chargers on the internet which may not be covered by safety standards.
This means there is a risk that the device could catch fire in a quick and scary process called thermal runaway.
Thermal runaway occurs when a battery warms up and produces enough heat (900 degrees) to cause adjacent cells to overheat.
This could cause a lithium battery fire to flare and the fires can be very difficult to put out.
The Civil Aviation Authority has warned that a lithium battery fire could cause catastrophic damage to an aircraft.
It could even bring down an aircraft in an extreme case making the cheap batteries very dangerous.
The CAA warned: "Poor quality or counterfeit batteries have been the cause of fires on board aircraft.
"In recent years we've seen a growing number of fire incidents involving lithium batteries which have the potential to lead to the loss of an aircraft.
"All types of batteries must pass stringent tests. Batteries which are not tested such as counterfeit batteries pose a significant risk to flight safety."
If a passenger drops a personal electronic device down the side of a side they could be crushed in the mechanism.
That could cause a device to go into thermal runaway and set fire to the passenger's seat.
The CAA added: "There have been occasions where incidents involving lithium batteries have occured in the passenger cabin.
"Prompt actions of cabin cabin and subsequent actions by the flight crew can avoid an inflight fire becoming uncontrollable with potentially disastrous consequences."
Most airlines will carry specialist battery fire containment bags which can deal with the danger in seconds.
Source: Read Full Article