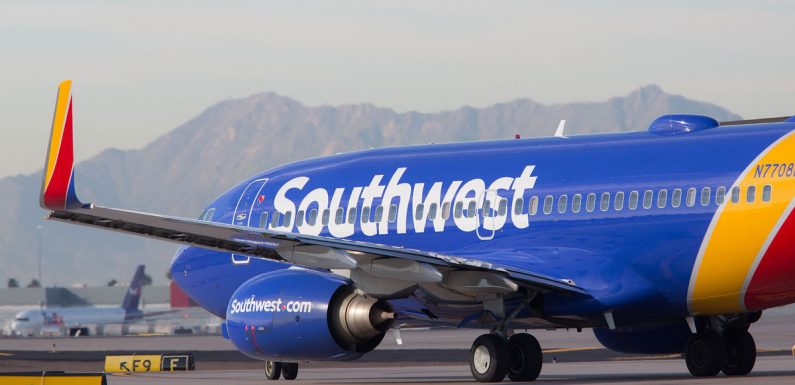 The Department of Transportation is investigating whether Southwest Airlines executives engaged in unrealistic scheduling ahead of its holiday season operational collapse, a practice that the department would regard as "unfair and deceptive" under federal regulations.
"DOT will leverage the full extent of its investigative and enforcement power to ensure consumers are protected and this process will continue to evolve as the department learns more," a DOT spokesperson said in an emailed statement.
Though the statement doesn't reference potential penalties, the DOT generally has the authority to fine airlines found to be engaging in unfair or deceptive practices. For example, the department has issued numerous fines against carriers for violating a regulation that limits the length of time airlines can keep flyers in a plane on the tarmac. That regulation was written based upon the DOT's authority to crack down on unfair and deceptive practices.
Southwest canceled 16,700 flights between Dec. 21 and Dec. 31, an event that was precipitated by a winter storm that affected a large swath of the U.S. But more than 13,000 of those cancellations came between Dec. 24 and Dec. 29, when the storm was over and the airline was working to restore its operations. 
Southwest executives discuss tech problems
During Southwest's year-end earnings call on Thursday, company executives stated repeatedly that they had enough staff and enough aircraft to fly the airline's holiday season schedule. CEO Bob Jordan and COO Andrew Watterson said that a final determination on the specific causes of the operational collapse will come from an outside assessment by consulting firm Oliver Wyman. The airline expects Oliver Wyman to complete that review in a matter of weeks, Jordan said. 
But Watterson nevertheless explained the carrier's current thinking on how the meltdown developed. As the winter storm was approaching, he said, Southwest took its usual step of proactively canceling some flights. However, the storm turned out to be worse and more widespread than the airline had anticipated. As a result, the carrier implemented a large number of close-in cancellations, which overwhelmed SkySolver, its automated crew-assignment system. 
Related: Shareholder class action filed against Southwest Airlines
Once the system was behind, Watterson said, Southwest did not have the capability to catch up. Crew members who needed to be placed on new flights couldn't be properly reassigned because the system hadn't recorded the change that had already occurred to their schedule. 
SkySolver, which was designed by GE Digital, is used by other U.S. airlines as well, he and Jordan noted.
Watterson said that the large volume of late cancellations exposed a functional gap in the software, which excels at making forward schedule changes but was unable to retroactively record changes. 
GE Digital, said Watterson, has developed a patch to resolve that software limitation, which Southwest is testing. The carrier expects to have that update online in the next few weeks.
"We are intensely focused on preventing another operational failure like we had last month," Jordan said.
Southwest meltdown cost $800 million
Hurt by what the carrier now says was an $800 million impact from the December meltdown, Southwest reported a fourth-quarter net loss of $220 million. 
Related: Southwest is doing damage control with corporate clients
For full-year 2022, Southwest reported net income of $533 million, a drop of 44% from 2021.
The company is also estimating that it will finish in the red in the first quarter of 2023, which ends on March 31.  Such a loss would be driven by an estimated $300-$350 million carry-over impact from the December collapse. A portion of that figure includes customer reticence to fly Southwest, said chief commercial officer Ryan Green. But he added that advance bookings indicate that those impacts will wear off before March.
Source: Read Full Article