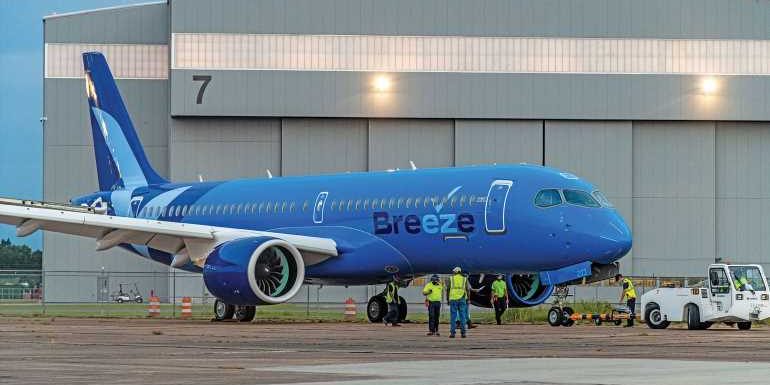 Breeze Airways will add 10 new destinations this summer, including its first four stations in the Western U.S., as it launches its fleet of long-range Airbus A220 aircraft. 
The discount carrier, which started operations last May, will begin flights this May from Nashville, San Francisco and Jacksonville, Fla. In June, Breeze will add Los Angeles and Las Vegas to its Western U.S. route map, while adding the Eastern U.S. cities of Syracuse, N.Y.; Savannah, Ga.; and Fort Myers and Sarasota, Fla. to its network. 
Related: A conversation with Breeze Airways founder David Neeleman
On Aug. 4, Breeze will become the first airline to serve the former Norton Air Force Base in California, which has been renamed San Bernadino Airport. Breeze will offer daily San Bernadino-San Francisco service. 
In total, Breeze plans to launch 35 routes this summer, including five additional routes between its existing destinations, giving it a total of 77 routes serving 28 U.S. cities. 
Among its new Western U.S. cities, Breeze will fly seven routes from Las Vegas, all of them to Eastern cities and operated with the A220. They include Richmond, Va.; Syracuse; Fort Myers, Charleston, S.C.: Jacksonville; Norfolk, Va.; and Huntsville, Ala.
The A220's range of 3,800 miles is about 1,000 miles longer than the range afforded by Breeze's existing Embraer E190 fleet. The A220s, which upon launch will have 126 seats, will also be the first in the Breeze fleet to offer a premium cabin. 
Breeze will fly three A220 routes from San Francisco, including Louisville, Ky.; Richmond; and Charleston, as well as a fourth route to Ontario using an E190-series plane. 
The carrier will fly to three Eastern U.S. cities from Los Angeles using the A220, including Providence, R.I.; Norfolk and Savannah.
Among its new destinations in the Eastern U.S., Breeze will offer seven routes from Jacksonville. They include Columbus, Richmond, New Orleans, Providence, Norfolk and Hartford, Conn., along with Las Vegas.
From Savannah, Breeze will fly to Hartford, Providence, Columbus and Norfolk, in addition to Los Angeles. 
From Nashville, Breeze will offer flights to Oklahoma City and Tulsa, Okla.; Akron, Ohio; and Hartford.
From Fort Myers and Syracuse the discount carrier will fly to Charleston in addition to Las Vegas. 
From Sarasota Breeze will fly to Hartford. 
All of the new routes other than San Francisco-San Bernadino will be less than daily. Several will be summer seasonal only.
Source: Read Full Article