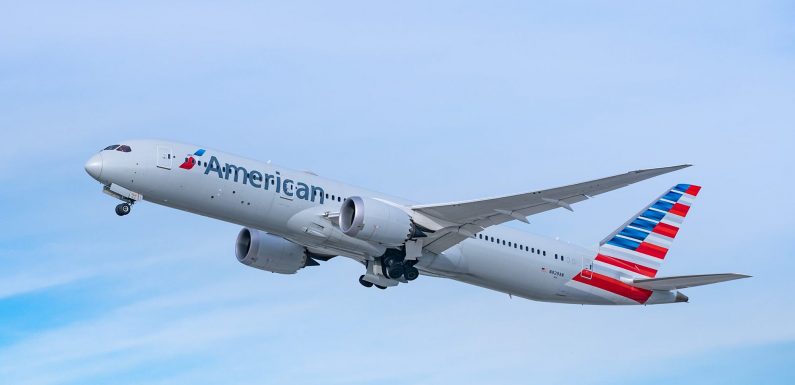 American Airlines passengers traveling internationally will soon be able to use a health passport app, with the capability to upload test results and required documents before boarding.
The carrier — the first to roll out the technology — partnered with biometric authentication provider VeriFLY to give travelers a streamlined experience, keeping all their documents in one place, American announced last week. The app will be available to passengers worldwide starting Jan. 23.
"We support the implementation of a global program to require COVID-19 testing for travelers to the United States, and we want to do everything we can to make travel a seamless experience for customers," Julie Rath, the vice president of customer experience at American Airlines, said in a statement. "We've received positive feedback about the app so far and look forward to more customers having the opportunity to use it."
Customers can download VeriFLY from the app store, create an account, select their destination, and upload the necessary documents. Travelers will then be issued an activated pass they can use when boarding.
The app is already available to customers who are traveling from the U.S. to Jamaica, Chile, Colombia, El Salvador, Guatemala, and Honduras.
Starting Jan. 26, the U.S. Centers for Disease Control and Prevention will require anyone traveling to the U.S. to have proof of a negative COVID-19 test prior to boarding a flight. The viral test must be taken within three days of a passenger's scheduled departure.
The American Airlines app echoes several similar digital health passport efforts, including one from the International Air Transport Association (IATA), which plans to store everything from test results to a global registry of testing and vaccination centers.
The concept of vaccine passports is a new element in travel safety as the world becomes inoculated from coronavirus, and potentially replace testing requirements going forward. In fact, Dr. Anthony Fauci, the director of the National Institute of Allergy and Infectious Diseases, has said it is "quite possible" showing proof of vaccination will be required for travel in the future.
Alison Fox is a contributing writer for Travel + Leisure. When she's not in New York City, she likes to spend her time at the beach or exploring new destinations and hopes to visit every country in the world. Follow her adventures on Instagram.
Source: Read Full Article