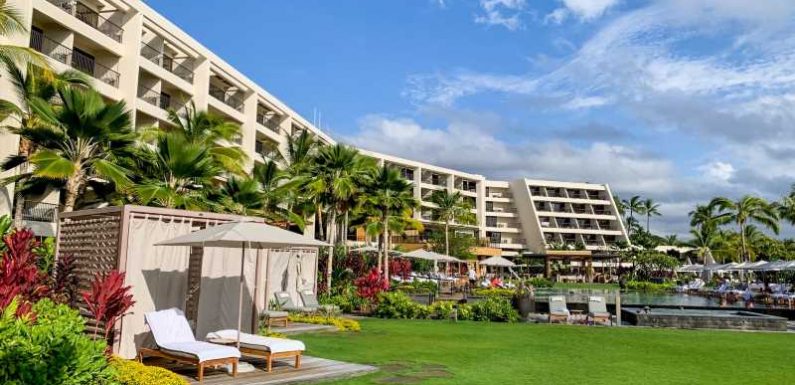 Load Error
Editor's note: Mauna Lani provided a complimentary stay to TPG to experience the newly reopened hotel. The opinions expressed below are entirely from the author and weren't subject to review by Mauna Lani.
I want to go back and stay longer.
The Mauna Lani hotel in Waimea, Hawaii, has had an interesting year and a half, to say the least. The hotel run by Auberge Resorts Collection reopened in January 2020 after a major makeover. It wasn't long afterward that COVID-19 shut down not only the property but pretty much all of Hawaii. Well, I'm pleased to report this spectacular resort is back open, and if my stay was any indication, should be added to your bucket list.
For more TPG travel news and tips delivered each morning to your inbox, sign up for our free daily newsletter.
In This Post
Gorgeous renovations
The Mauna Lani resort was first built in 1983 on the Big Island's Kohala Coast. It's had several owners over the years, but the property was bought in 2018 by Auberge Resorts Collection to become its first resort in all of Hawaii. It sits on 32 acres of lava fields on the famous coastline not too far from Kona (about a 30-minute drive).
Related: Fair warning: Hawaii is crowded again
The entire property got a gut renovation. My favorite spot was the wide-open lobby areas. Talk about the "wow" factor. There is cedar flooring everywhere, along with tropical plants and palm trees. Check out the outrigger canoe as the centerpiece of the multi-floor lobby.
The rooms have been totally redone too. There are three new pools, two newly reimagined restaurants and the resort also has a brand-new Goop store and a fancy spa. There's also a pretty impressive gym with Peloton bikes and lots of brand-new equipment.
Chris White is one of the people in charge at the hotel. I spoke to him during my stay back in March. He told me the renovations took about 14 months, and it cost just over $200 million to turn the dated property into the show-stopper it is today.
White said, "What I love is that it honored the importance of the location with the ponds and the ocean, but it brought in a new comfortable and contemporary feel where families can sit and relax and enjoy the pools and the ocean."
Ocean views
The Mauna Lani has more than 300 guest rooms and suites. White told me 90% of the rooms have ocean views. I stayed in one of the more basic rooms, but still had incredible views of the ocean, CanoeHouse restaurant and the residences. White told TPG, "People come to Hawaii, they want that ocean view, that relaxing experience, our rooms really bring that out."
A post shared by The Points Guy (@thepointsguy)
A post shared by The Points Guy (@thepointsguy)
Location
The Mauna Lani is in a great spot on the coast of the Island of Hawaii. It's about 40 minutes from Kona International Airport (KOA), and in a spot that is important to Native Hawaiians. It's considered a spiritual center on the lava plain of the island with influences from no less than five volcanoes. Nearby is a lovely public beach and the resort has its own beach area as well.
Related: Review of the Hyatt Regency Maui 
It's also right next to ancient Kalahuipua'a fishponds accessible via a walking path. White told me, "I love the place, the land… this place where Hawaiian royalty would come and use the fish points. They would rest here with their canoes up and down the coast. Yes, we are a modern, luxury resort, but the place this resort sits on is very special."
Activities
The hotel offers a ton of activities including cultural experiences. I got to do a really enjoyable outrigger canoe paddling trip to snorkel on the reefs just off the hotel property. The young instructors were fun and down-to-earth.
Gallery: 25 epic hotel bathrooms from around the world (USA TODAY)
Among the activities you can purchase while you are there? Outrigger canoeing, surfing, stand-up paddleboarding, snorkeling and even stand-up surfing, which I had never heard of before this trip.
The hotel also offers lots of cool local experiences like lei-making and guided history tours. The other thing you might get lucky and see is local wildlife, including whales and sea turtles. I got to see both the resort's sea turtle rescue pond and wild sea turtles sunning on the local beaches.
Nice rooms
The rooms are not huge, but they are lovingly remodeled. They are light and modern with lots of natural wood accents. There are 333 rooms including suites and residences. I didn't get to peek inside the five residences, but they looked amazing from the outside. They even had individual dunking pools.
Related: Top 10 reasons to visit Timbers Kauai 
The bedding is super luxe and comfy. Charging stations and outlets are in logical spots and abundant. The AC system was the quietest I've ever heard.
I really like the stone-finished bathrooms with Malin & Goetz soaps and lotions. White described the rooms as "residential and comfortable." I couldn't agree more.
TPGs Director of Business Analytics Jack Witty, was at the resort, coincidentally, the same week I was there. He had a king-size bed and an oceanfront room. He told me he thought the hotels' renovations were "pretty amazing."
Food and beverage
The food was fantastic at Mauna Lani especially, for me and for Jack Witty too, HāLani. I'd highly recommend booking a stay where breakfast is included just to enjoy this indoor/outdoor venue and its amazing menu. My traveling companion Amy Bookout was a huge fan of the juices saying, "Beet and ginger for the win." I, too, loved the fresh juices and smoothies. Jack was a big fan of the Ube pancakes with their blue color.
Related: Everything you need to know about visiting Hawaii right now
Bookout also admired the incredible turnaround at CanoeHouse Restaurant when a downpour forced outdoor dining indoors. The staff did an incredible job moving all the guests (including us) inside. We had great service, and it was a really creative menu.
Witty told me, "CanoeHouse was amazing and definitely hits the mark when it comes to fine dining. Cocktails were all great and we thought the beach/pool service was some of the best. Very attentive and staff all super friendly."
Witty also had a pro tip to share: "Buy your beer from the little market inside and take it to the beach/pool vs. buying it at the pool."
Hotel marketing head Chris White said of the hotel's food, "The Hawaii Island is a bounty of anything a chef would want — produce year-round, the bounty of the ocean. Our culinary staff sources as much as possible from the local island, because we can."
Related: Hawaii making it easier to visit
My favorite part of food and beverage was the amazing Nespresso machines for coffee in every room.
Good service
Service was good at the Mauna Lani. You are greeted at the entrance by staff with a lei of your choice and a cold beverage. Front desk workers were efficient and helpful. Service was attentive but not overbearing during my stay. The staff that were having the most fun were definitely the young men and women at the activity center at the Surf Shack. Activities aren't cheap, but well worth it in my opinion.
Related: Hawaii pushing back vaccine passports
Bookout said, "The staff was super friendly and helpful." She loved the poolside service that was attentive and quick to help. Free chilled water in a glass bottle at the pool was a plus too.
Summary And booking
The newly reopened Mauna Lani by Auberge Resorts is absolutely worth checking out. It was my favorite resort property of this trip to Oahu and Hawaii. It's not a cheap vacation, but you can squeeze value from your stay by booking multiple nights or through American Express Fine Hotels & Resorts. Nightly rates range from $614 to $849 for standard rooms. If you stay four or more nights, the fourth night is free which can save you about 25%.
Related: Your complete guide to American Express Fine Hotels and Resorts
If you book via, Amex Travel, you're looking at more than $950 a night, but you'd get a $100 property credit, daily breakfast, late checkout and a room upgrade on check-in when available. There are other offers available if you book direct at the hotel.
It was so hard to say goodbye to Mauna Lani Resort.. #Hawai #travel @MaunaLaniHI pic.twitter.com/p6bCB8hmqr
— Clint Henderson (@ClintPHenderson) March 15, 2021
Here's TPG's complete guide to the rules to visit Hawaii.
I spent three days in January on Kauai as well. Check out my experiences there.
Related: Kauai expanding resort bubbles
Featured photo by Clint Henderson/The Points Guy
SPONSORED: With states reopening, enjoying a meal from a restaurant no longer just means curbside pickup.
And when you do spend on dining, you should use a credit card that will maximize your rewards and potentially even score special discounts. Thanks to temporary card bonuses and changes due to coronavirus, you may even be able to score a meal at your favorite restaurant for free. 
These are the best credit cards for dining out, taking out, and ordering in to maximize every meal purchase.
—
Editorial Disclaimer: Opinions expressed here are the author's alone, not those of any bank, credit card issuer, airlines or hotel chain, and have not been reviewed, approved or otherwise endorsed by any of these entities.
Source: Read Full Article