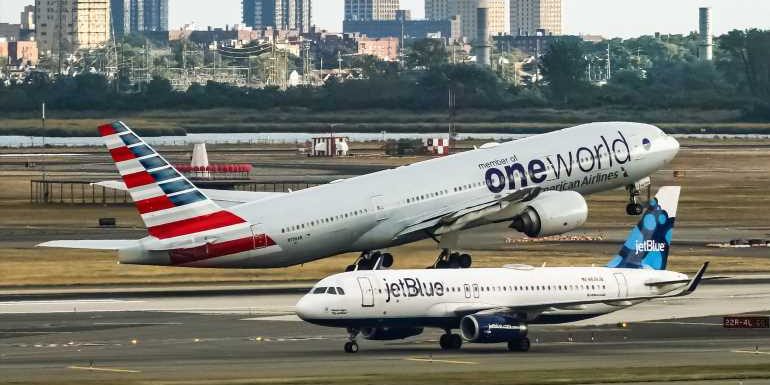 American Airlines and JetBlue have filed a motion for dismissal of the Justice Department's antitrust case against the carriers' Northeast Alliance. 
In the filing, the carriers are also asking the court to grant an oral argument to hear the motion.
In asking for the case to be dismissed, American and JetBlue say that the DOJ is required under antitrust law to allege anticompetitive effects of the Northeast Alliance and to plausibly allege that the alliance has market power in the relevant market. 
Related: JetBlue president Joanna Geraghty on the Northeast Alliance
"Plaintiffs have failed to plead either element," the filing says. 
The DOJ declined to comment. 
The DOJ — alongside the District of Columbia and the states of Arizona, Massachusetts, California, Florida, Pennsylvania and Virginia — sued American and JetBlue in September in an effort to break up the Northeast Alliance, under which the carriers codeshare and jointly schedule routes in Boston and the New York area.  
The DOJ alleges that the alliance is anticompetitive, will cause hundreds of millions of dollars in harm to consumers and gives JetBlue incentive to give way to its larger partner on route decisions not only in New York and Boston but throughout its network.
The carriers, conversely, have argued that the alliance has already enabled them to launch numerous new routes and beef up frequencies, especially in the New York area, where United and Delta have been the dominant carriers (Delta in New York City, United in Newark).
The Northeast Alliance launched in February.
Source: Read Full Article