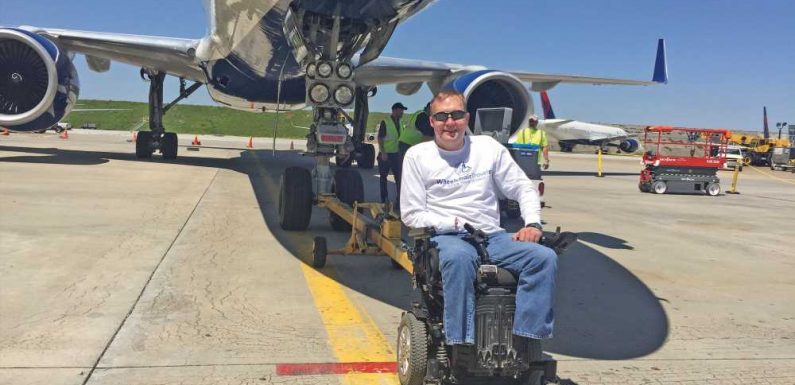 In contrast to the requirements imposed on bus lines and trains, the American with Disabilities Act doesn't require airlines to make it possible for passengers to travel in their personal wheelchairs.
However, a newly released National Academy of Sciences (NAS) report concludes that personal wheelchair securement is technically feasible on commercial narrowbody aircraft such as Boeing 737s and Airbus A320s, provided that two successive rows of seats are removed on one side of the aisle. The study, which was undertaken at the mandate of Congress, also states that many wheelchairs comply with the horizontal crash standards used by the FAA for existing aircraft seats, though further testing must be done to determine whether chairs meet FAA standards for vertical impact.
"We didn't find issues that would suggest it could not be technically feasible, but there are additional safety issues that would need to be explored," said Alan Jette, an emeritus professor at Boston University's Sargent College of Health and Rehabilitation Sciences and the chair of the committee that wrote the report.
The report, titled "Technical Feasibility of a Wheelchair Securement Concept for Airline Travel," doesn't explore the financial impact to airlines of removing two half-rows of seats.
"That was not part of our charge. We acknowledge that's an issue. And it obviously was an issue when Congress commissioned the study to be done," Jette explained.
The ability to fly with personal wheelchairs would be a game changer for many disabled travelers. It would also likely spur some wheelchair users who currently choose not to fly to take to the skies, the study says.
The authors stated that some people are simply unable to fly because they need to remain seated in their customized wheelchair.
For others, the existing boarding process — which involves transferring into a narrow airline-owned chair in the boarding area and a second transfer over armrests and into the airplane seat — can be painful and put the flyer at risk of injury. 
Once in the seat, disabled passengers are often uncomfortable, says the study, because the seats are not geared to their specific needs.
John Morris, a triple amputee and power wheelchair user who is the founder of WheelchairTravel.org, said those issues are real, and they are especially challenging for travelers who have to be lifted into their seat.
But Morris said the problem that has most plagued him over the 850 flights he has taken since a debilitating 2012 car crash is damage to his checked personal chair. In 2019, according to the Department of Transportation, the 10 largest U.S. airlines either "lost, damaged, delayed or pilfered" more than 10,500 wheelchairs or scooters, which was more than 1.5% of all chairs or scooters that were checked. 
Morris said the real number is higher. His chair, he said, suffers cosmetic damage regularly while flying and twice he has had a chair totaled by an airline.
"I wholeheartedly believe that wheelchair users should be given the option to take their wheelchairs on board the aircraft," Morris said. 
The NAS authors concluded that the most feasible place to accommodate personal wheelchairs would be on the left side of the plane, in the two rows directly behind the boarding door. Clearing out two rows would provide adequate space for chairs to maneuver into the designated securement location and perform medically essential position functions without impinging on other flyers. Placing the wheelchairs behind the door would eliminate the problem of maneuvering them through the narrow airline aisle. 
Providing such access, however, would require the airline to remove six coach seats or four first class seats from the aircraft. 
Ben Baldanza, a former Spirit Airlines CEO who now hosts the podcast "Airlines Confidential," estimated conservatively that even if the seats were economy, removing them would cost an airline $1 million per year per plane in revenue. Such costs, he said, are significantly higher than similar opportunity costs incurred by buses or trains. 
He further observed that even though the seats would be removed for every flight, on many flights there wouldn't be a wheelchair customer using that space. 
"You're building in an expense to protect you from an occasional shower versus just giving someone an umbrella," he said.
Instead, said Baldanza, airports should continue to accommodate disabled passengers by providing the airport infrastructure and pre-boarding procedures that are in place today. 
The NAS committee suggested that additional studies be conducted, both to test the crashworthiness of specific wheelchairs and to assess the likely demand for air travel from disabled flyers if they could remain in their wheelchairs. 
Source: Read Full Article