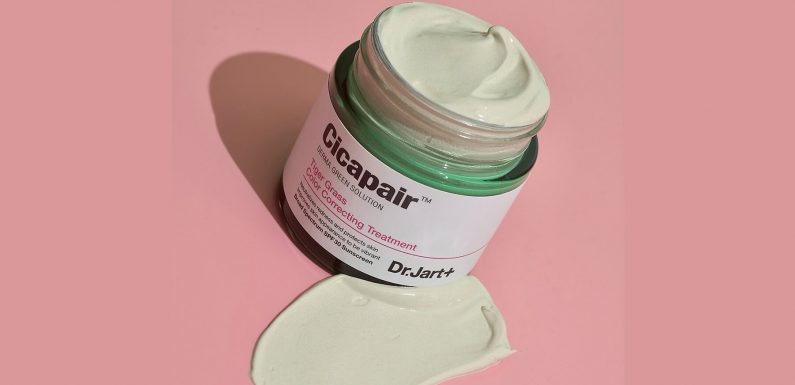 If you've scrolled through TikTok recently, you might have spotted a magic cream that users tout as a holy grail beauty product that makes their skin look perfect without foundation. After going viral and selling out absolutely everywhere twice, the Dr. Jart+ Cicapair™ Tiger Grass Color Correcting Treatment SPF 30 is finally back in stock. 
To buy: sephora.com, $18-$52
The product first launched from Korean beauty brand Dr. Jart+ back in 2016, but it's more popular than ever thanks to TikTok. The treatment goes on green and fades to a light beige, color-correcting redness while providing protection from UV and environmental aggressors.
Before the pandemic hit, I was traveling all the time, so I always looked for products that do double or triple duty to free up space in my precious cosmetic bag — and this cream certainly delivers on that front. It helps to soothe dry and irritated skin with centella asiatica, an herbal plant from wetlands in Asia also known as tiger grass, while toning down any redness and providing UV protection. 
I personally struggle with redness and sensitivity, and this cream neutralizes and calms my fair to light-toned skin. To use the cream, you apply it to your face and rub it in until it turns to a beige color as a last step before makeup. I personally find that it applies best when I warm it up in my hands and pat or gently rub into my face after I've applied my favorite moisturizer. Once I start regularly flying again, I'll definitely keep this in my carry-on, but for now, it's a great base for those no-makeup makeup days when I want to look fresh-faced for Zoom meetings while working from home. 
Elizabeth Rhodes is an associate digital editor at Travel + Leisure. Follow her adventures on Instagram @elizabetheverywhere.
Source: Read Full Article