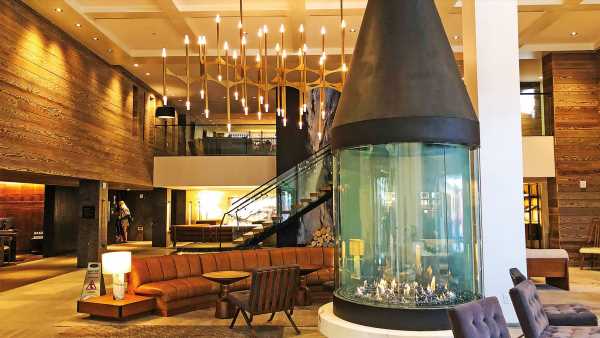 Lots of hotels like to play up the merits of their lobby space, but as far as creating a warm welcome goes, the Hythe, a Luxury Collection Resort in Vail's Lionshead Village may just be the closest one can get to a platonic ideal.
The property, which was previously the Vail Marriott Mountain Resort, underwent an extensive $40 million revamp and reopened as the Hythe in 2021 — and nowhere is the hotel's transformation more evident than its sparkling lobby. 
The two-story space showcases plenty of more traditional alpine elements — including dark wood finishes, fur throws and ski memorabilia — but injects some 1970s-inspired flair in the form of low-slung furniture and a free-standing, conical fireplace. 
Comfy seating nooks and large, curved leather sofas provide room for guests to spread out, and with the hotel's check-in desks tucked off to the side, the space succeeds in exuding that much sought-after living room-style ambience.
Throughout my three-night stay at the Hythe in June, the lobby certainly served as a prime gathering hub for guests, particularly in the late afternoon, when a pop-up bar area would open, offering complimentary tastings of spirits produced by local craft distiller 10th Mountain Whiskey & Spirit Co.
On Fridays, the lobby tastings are accompanied by a roving raclette cart as part of the Hythe's Chasteilet Cheese Ritual. Guests are treated to a complimentary and surprisingly hearty portion of melted cheese on a bed of meat, potatoes and veggies.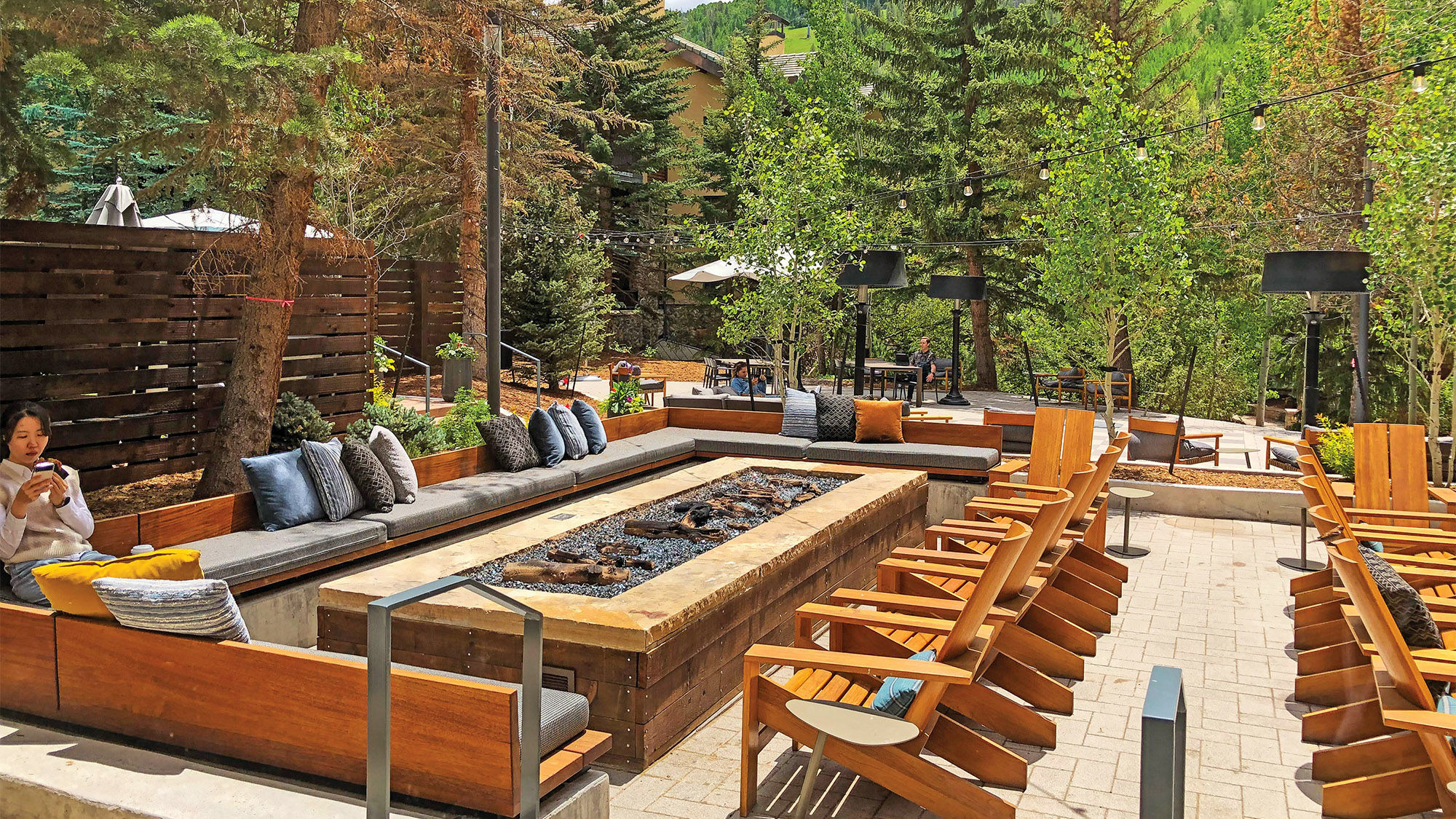 Local flavor
And for those looking for more than just a sampling of locally inspired cuisine, located just above the lobby is the Hythe's breakfast venue, Margie's Haas, and an adjoining bar and restaurant, the Revel Lounge, where the atmosphere is cozy and convivial.
The Revel Lounge's fare can best be described as elevated comfort food with a Colorado twist, featuring highlights like a signature Revel Raclette made with venison, smashed potatoes and cheese, bison green chili and wild game meatballs.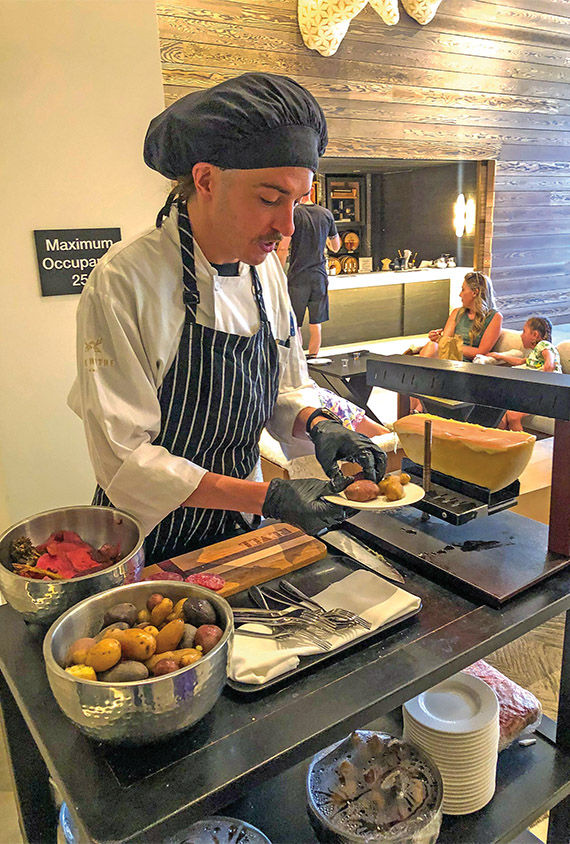 Despite being the last item listed on the menu, my personal favorite at the Revel Lounge was a sweet corn chowder. Infused with the perfect amount of heat thanks to some green hatch chilies, the chowder was what my server described as "a sleeper hit."
Beyond the lobby and dining areas, however, there was still more public space to love.
I made good use of the hotel's well-stocked grab-and-go outlet, which offered not only the usual sandwiches, salads and sodas but also an impressive array of artisanal and locally sourced snacks and beverages. The selection of health drinks, juices and kombuchas alone was dizzying.
Just outside the lobby, a beautifully landscaped patio with elevated fire pits, string lights and Adirondack chairs proved to be a popular spot to unwind in the evenings. And just beyond that, the pool emerged as a midday hot spot frequented by families with young kids.
When all that time spent at the hotel's lobby, pool and food and beverage venues starts to wear a bit thin, guests can retreat back to their rooms for a tranquil escape from all the buzz.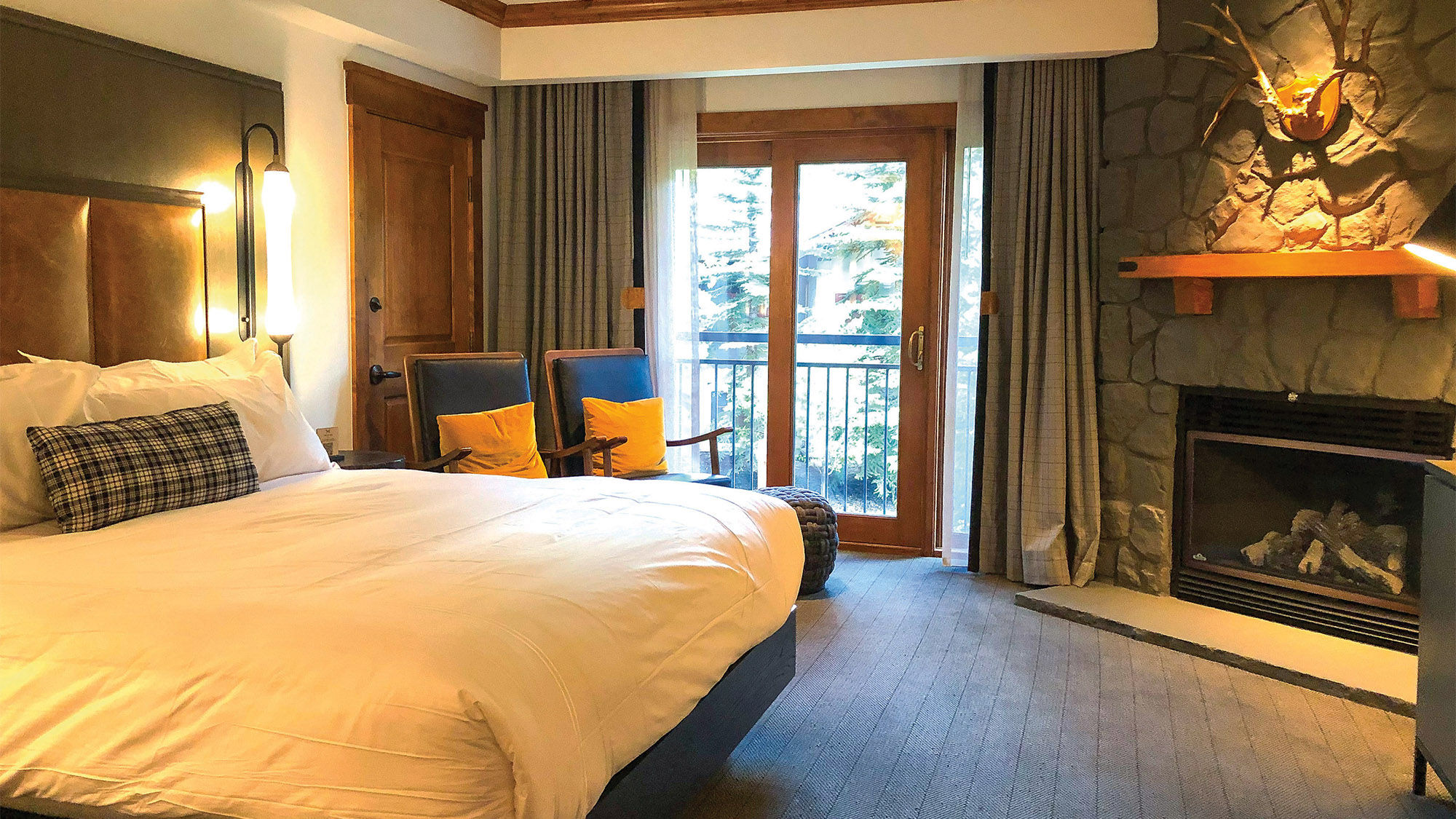 Relaxing by the fire
Anchored by a dark stone fireplace, my king room featured plenty of practical comforts, including a spacious, kitchen-like counter with a sink, coffeemaker and bar-height dining area as well as a well-lit bathroom with fresh finishes and a large shower and soaking tub. 
Much to my delight, the June temperatures in Vail dipped quite a bit at night, giving me an opportunity to make use of the electric fireplace. The hearth's dial has a built-in timer, which ensures that the fireplace automatically turns off within a designated hour, preventing overheating.
And of course, what's a fireplace without a rocking chair? My room had two of them, which made for an ideal spot to unwind with a glass of wine or a book. 
If there's one thing the Hythe seems to understand well above all, it's that there are few things as quintessentially cozy and inviting as a comfortable chair and a roaring fire. 
Source: Read Full Article